Justin Gaethje is awesome.
The greatest of all time argument is a constant in MMA, despite the sport still being in an infancy stage, fans are eager to definitively prove who is the GOAT. They base this on several factors. The key pieces usually considered in this argument are the most title defenses, the best resume, and the most skilled in the octagon. Perhaps the two names which appear the most are Jon Jones and George Saint Pierre. Ultimately, this argument comes down to subjective opinions on what best qualifies a fighter to be known as the GOAT. Something which is often missing from this argument is the factor that keeps most fans interested in MMA and that is the primal desire for entertainment done through the way of pure ultra-violence. 
In this regard, there is no doubt that Justin Gaethje is the GOAT. This can be proven in one simple question, when has Justin Gaethje ever been in a boring fight? Never. When going down the complete record of Justin Gaethje a pattern quickly emerges. His fights are one of three things: a brutal knockout, brutally breaking down his opponent and forcing their body to give in, or a fight of the year contender. This guarantee of excitement makes Justin Gaethje must-watch television and a fighter who is carving out a legacy as the bonus machine. Where other fighters have to ask or hope for a post-fight bonus, just Gaethje has become a specialist in this to the point where he may as well be handed it before he even fights.
The only major criticism fans have been able to hold against Gaethje is the idea that he is nothing more than a clued-in street brawler. a dumb fighter who happens to be tough enough to break down fighters below the elite level. For a time, this seemed to be an accurate criticism. Particularly after a fight with Michael Johnson, in which he did get the finish but in doing so had to go to war and almost got finished himself. Then came his first loss against Eddie Alvarez, at that point in time Alvarez was coming off of the viral embarrassing defeat to Conor McGregor and a no-contest to Dustin Poirier that was a fight Alvarez was mostly losing until throwing an illegal knee. Gaethje was supposed to add another brutal finish to his resume, however, after a brutal war, Alvarez was the one who got the finish. While those who know MMA can tell you that Eddie Alvarez is a high-level fighter that brings no shame in defeat, many casual fans see the fighter McGregor made a meme out of. A chance at redemption was provided as Gaethje was now matched up against Dustin Poirier headlining a fight night card. The fight has gone down as one of the best ever witnessed in the octagon but Gaethje struggled with the smooth boxing of Poirier and the lack of tight defense or footwork took a vicious toll. After a competitive third round, Poirier came out like a Banshee in the fourth round making easy work of getting the finish over Gaethje and cementing the idea that while entertaining, Gaethje was simply a class below the elites. 
This changing view was reflected when in his next fight Gaethje was an underdog against James Vick. Losing to Vick would have really put the finishing touches on Gaethje, losing fan interest. But instead, a resurgence was put in motion, as Gaethje quickly and brutally knocked out James Vick, followed by Edson Barboza, and then Donald Cowboy Cerrone. Gaethje was no longer known as the fight of the night winner but now as the performance of the night winner, showing a level of power punching not seen within his previous fights. 
Despite the fact that these victories showed flashes of a change in style that Gaethje was starting to reference, there were still questions as to how Gaethje could perform at the top of the division. Even these wins could be played down, James Vick has now been knocked out multiple times at both 155 and 170. Edson Barboza is a fighter who while dangerous has been known to crumble under pressure and the same can be said for Donald Cerrone who is currently on a long losing streak. The perception of Justin Gaethje finally shifted at UFC 249 when he brutally beat down and defeated Tony Ferguson, ending his 12-fight winning streak while killing the dream match of Khabib vs Ferguson. Tony Ferguson in many ways was one of the worst matchups for Gaethje on paper with unwavering toughness mixed with a seemingly bottomless gas tank. Many expected Gaethje to have early success but for Ferguson to use his superior cardio to take over the fight and finish Gaethje late.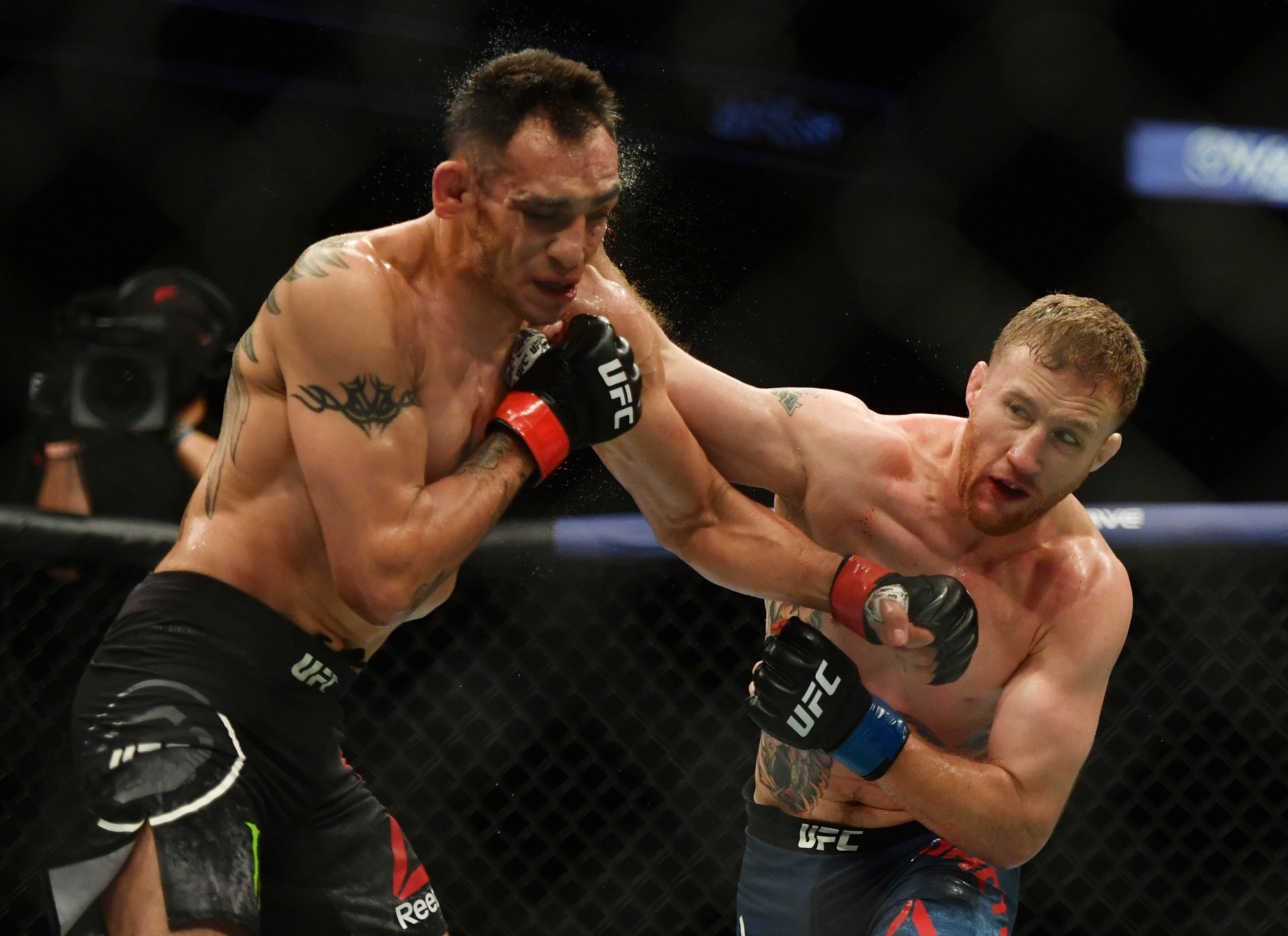 The reality was that with the exception of a flash uppercut at the very end of the second round, Justin Gaethje dominated the fight, showing a calm and patient approach as well as the ability to counter punch Ferguson at will. The fight became a slow breaking down of Tony Ferguson's body. Mentally Ferguson seemingly cannot be broken so Gaethje implemented a consistent leg kick and a furious right hand to get Ferguson to the point where his cardio was irrelevant. Justin Gaethje showed that when fighting at a slower pace and using all of his fundamental boxing not only is he an excellent counter-puncher but he has the ability to see and evade punches in a way not many believed him capable of. This wasn't the same fighter who went in the trenches with Johnson, Alvarez, and Poirier this was an elite level lightweight easily beating the man who had beat most of the other fighters in the division, the bogeyman of the lightweights.
Despite what many may argue, Gaethje has always been a technically proficient fighter in his WSOF bouts, especially you can see glimpses of a clearly thought out plan to break down the body of his opponents by using a high volume of leg kicks and pocket fighting. The only issue was that Gaethje had not fully refined this game plan and was too willing to take shots that he could have avoided, but this worked for him for a while as he remained undefeated. Fundamentally, Gaethje's approach is still the same, always going for the finish, always looking to break his opponents physically and mentally. Gaethje is simply evolving as a striker and using tools he has always been capable of implementing but never needed to. This version of Gaethje is just as violent but far more dangerous than ever because at least for now he has solved his major issue of pacing himself in a fight.
At UFC 254 Justin Gaethje comes across as the biggest challenge to the undefeated 28-0 Khabib Nurmagomedov. Thus far no one has managed to pose much resistance to the mauling style of Khabib. Gaethje could very well be the challenge fans have been hoping for. Justin Gaethje for the first time will have to use his highly decorated wrestling pedigree, which is not saying he is going to try grapple with Khabib. Gaethje in numerous interviews has always made clear he was more of a defensive wrestler than an offensive one. Justin Gaethje defends takedowns in the way he fights, using force and violence. The best example is of that is that Gaethje had wrestled Olympic Gold Medallist Jordon Burroughs. While Gaethje lost the match, he made sure to defend a number of takedowns and do damage to Burroughs by knocking out one of his teeth and giving him a difficult match due to his defensive prowess. This of course may not translate to MMA, and Khabib is not Jordon Burroughs, but this is a perfect example of the energy Gaethje brings to his style of wrestling. Justin Gaethje is unlikely to be broken mentally by the wrestling of Khabib, his mindset is far too unique compared to any fighter Khabib has faced. If Justin Gaethje lives up to the expectations of fans, he can easily keep this fight standing and on their feet, Gaethje will not make the mistake of purely focusing on the takedown and will continue to be true to his name and win in a fashion that supports his label as the most violent man in the UFC.