Hi, it's Aaron Truesdale I am back and ready to give you the fantasy advice you need for week 6. Also, I answer any fantasy questions you may have every Thursday morning through Sunday on Facebook under the fantasy football chat group & fantasy football gurus group.
Now, let me tell you a little bit about my start/sit column. I will be giving my top 5 starts & my top 5 sits at each position each week. There will be a start & sit of the week at each position with projections. I will be only doing projections for my starts/sits of the week. My column will not include the automatic starters. Automatic starters are guys you don't bench unless they're injured or on a bye week. I am going to give 2 examples of automatic starters at each position obviously there are more than that. QB: Lamar Jackson & Patrick Mahomes. RB: Christian McCaffery (when healthy) & Aaron Jones. WR: Tyreke Hill & DeAndre Hopkins. TE: Travis Kelce & George Kittle. K: Justin Tucker & Harrison Butker. For Defense, there are only 2 I consider must starts, and those are Pittsburgh & Baltimore. Let's get started so here is my week 6 starts/sits.
Quarterbacks
Start of the week
1. Kirk Cousins vs. ATL
Cousin's had a good week last week against a weak Seattle defense. Now, this week he gets a decimated Atlanta defense. We know Atlanta is doing a huge revamp right now but that will take some time for it all to come together. What a dream come true for Cousins first Seattle now this week Atlanta. I'm predicting a big day for Cousins.
Projections:
35/45 360 yds. 4 tds. 0 int. 2 carries 3 yd.
2. Matthew Stafford vs. JAX
The Jacksonville defense is terrible when it's healthy. Now it's even worse since it's decimated with injuries So Stafford coming off a bye and refreshed will have a big game.
3. Ryan Fitzpatrick vs. NYJ
Fitz had a big game versus the 49ers last week. With the Dolphins likely not going to be able to run the ball too well against that Jets front 7. That means they will turn to Fitz to air it out so therefore it will be an even bigger day for him than last week against a weak Jets secondary.
4. Andy Dalton vs. ARI
We don't know what to expect from Dalton this week but he has a big arsenal in the Dallas receiving core. Plus a better RB than he had with the Bengals. Also, remember he did well with the Bengals with a decent receiving core. He has a pretty good matchup this week against an Arizona defense that has given up a lot this year.
5. Jared Goff vs. SF
Goff had a great game against a decent Washington defense. This week he gets a 49ers defense that was exposed last week by Fitz and the Dolphins. The 49ers are worst off than I thought with all their injuries. I look for Goff to pick up where Fitz left off and have a huge day against the 49ers.
Sit of the week
1. Teddy Bridgewater vs. CHI
Bridgewater goes from the start of the week to the sit of the week. Bridgewater had a good game last week but this week is a whole new ballgame. Teams seem to have some success running the ball against the Bears defense but it is very hard to pass against that Bears secondary and pass rush it will be no different for Bridgewater this week.
Projection:
16/35 200yds. 1td 3int 2 carries 10yds
2. Carson Wentz vs. BAL
Wentz had a good game last week against a tough Steelers defense which was a surprise for most including me. This week they play what I consider to be better defense and that is the Ravens so therefore Wentz will go back to being the terrible Wentz you know and love.
3. Nick Foles vs. CAR
Foles is terrible I think the bears would be better off going back to Trubisky as there starter. There stubborn tho and won't do that. That Bears offense is still lackadaisical but I think it was slightly better with Trubisky. Foles will have another terrible game this week against a Carolina defense that is ok at best.
4. Burrow vs. IND
Burrow struggled last week as I projected he would. He has a bit better game this week against Indy but still not good enough to start. So this week I sit him against a tough Indy defense. Burrow will bounce back this year but he is up against back to back tough defenses.
5. Tom Brady vs. GB
Green Bay is the most underrated defense in the NFL because it is overshadowed by the Green Bay offense. Brady will struggle against the Packers. Which in my opinion is one of the best defenses in the NFL this year.
Running Backs
Start of the week
1. James Robinson vs. DET
Robinson had an off game last week. The Jaguars said they wanted to get him more involved in the second half that will begin this week against a horrible Lions defense.
Projection:
25 carries 106yds 1td. 8 rec. 100yds. 2tds.
2. Chase Edmonds vs. DAL
Edmonds is slowly taking the starting job from Drake this year. That will continue this week as well. I think this is the week that finally takes over the starting job from Drake with a huge game this week against a horrid Dallas defense.
3. Antonio Gibson vs. NYG
Gibson is getting better and better even though last week was not a good game for him. This week against a horrid Giants defense. Gibson will bounce back in a big way this week.
4. David Johnson vs. TEN
Johnson did decent last week and started his march back into fantasy relevance. I think he keeps that going this week with a bigger game than last week. Even against a decent Titans defense.
5. D'Andre Swift vs. JAX
We know the Lions backfield is a mess right now. They are coming out of the bye week I think intending to have Swift take over as their main RB. Based on his last game before the bye week. So he could be a sneaky play this week against a terrible Jaguars defense.
Sit of the week
1. Clyde Edwards-Helaire vs. BUF
Up until last week, Clyde was a must-start this season but he hasn't been all that great this year and hasn't lived up to the hype and hasn't lived up to his ADP this year. It won't get much better for him as he's up against a very tough Bills defense.
Projection:
15 carries 36yds. 0tds. 3 rec. 15yds. 0tds.
2. Devin Singletary vs. KC
I know the Chiefs defense didn't do well last week but that will anger them this week and they will bounce back. That is bad news for Singletary. Plus with Moss back, I don't know what the carry share will be. I also think the goal line carries will go back to Moss. Singletary is going to be a bad start with Moss back.
3. Myles Gaskin vs. NYJ
I know Gaskins had a good game last week but this week he is up against that tough Jets front 7. This will be a bad week for him.
4. Joe Mixon vs. IND
Mixon had an okay game at best last week and this week won't be any better for him against a good Indy defense. Don't worry fantasy owners, he will pick up where he left off 2 weeks ago very soon. He just had a couple of good defenses in a row.
5. James Connor vs. CLE
Brown's defense is better than people give credit for. This week that is not good news for Connor. The Browns will shut him down in this game. Stopping Big Ben will be a whole different story for the Browns though.
Wide Receivers
Start of the week
1. Adam Thielen vs. ATL
We all know how bad that Atlanta defense is and it doesn't get any better for them this week. Thielen will completely terrorize that Atlanta defense this week.
Projection:
12 rec. 166yds. 3tds.
2. D.J Chark Jr. Vs. DET
As I said before, that Lions defense is horrid this year which means Chark will have a big game just like I stated with Robinson earlier against that bad Lions defense.
3. Ceedee Lamb vs. ARI
Lamb is getting better and better each week and is becoming one of the main receivers in Dallas. I think he will be Daltons #1 target as seasons goes on.
4. Marquise Brown vs. PHI
Brown had a good game last week and that trend will continue this week. I know Slay will be covering him but he struggled against the speedy steelers receivers and had 3 pass interference calls against him last week. This week he will have trouble keeping up against the speedy Hollywood Brown.
5. DeVante Parker vs. NYJ
That Jets front 7 is great but their pass defense is horrid. Which means a huge day for Parker this week.
Sit of the week
1. Robby Anderson vs. CHI
Anderson has been a good fantasy reciever this year but this week it won't be a good week against that tough Bears secondary.
Projection:
3 rec. 45yds. 0tds.
2. D.J. Moore vs. CHI
From the start of the week to the sit side of things this week. I don't think either of the Carolina receiver has a good game as you can see above with Anderson. That Bears secondary is just too tough.
3. Darius Slayton vs. WASH
Slayton had a good game last week. This week though he will have another one of his bad games. Daniel Jones, to me, is a lost cause this year and the Washington defense will be all over him. Which is the main reason why Slayton has a bad game this week.
4. John Brown vs. KC
Like I mentioned before, the Chiefs defense is angry after the bad game last week versus the Raiders. Which is bad news for Brown this week. Also Brown has been battling injuries all year and I think that slows him against the Chiefs as well.
5. Michael Gallup vs. ARI
I know the Arizona defense has been bad against the pass this year but Gallup has been just as bad if not worse. Gallup has been a total fantasy disappointment this year, especially with the emergence of Lamb. So it will be another disappointing game this week.
Tight Ends
Start of the week
1. Robert Tonyan vs. TB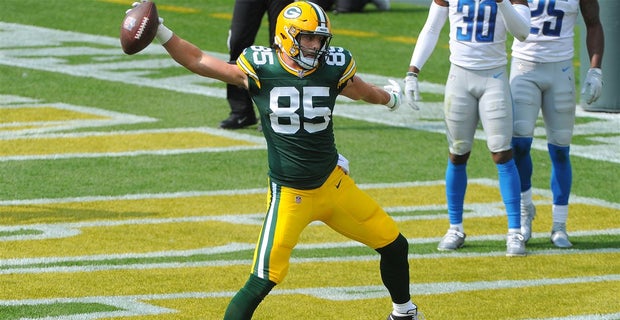 Tonyan had the game of his life before the bye week. Rodgers used to love throwing to his TE but hasn't had one of any worth the last few years. But now he has fallen in love with Tonyan. So there are more big games in his future. The future is now.
Projection:
6 rec. 85yds. 2tds.
2. Chris Herndon vs. MIA
Herndon hasn't been good at all this season but this will be a breakout week for him against the weak Miami defense.
3. Dalton Schultz vs. ARI
Schultz had an off week last week but he will bounce back this week with Dalton taking over at QB. Remember Dalton loved to throw to his TE in Cincinnati and he had Eifert there. In my opinion, he has a more talented TE in Dallas with Schultz.
4. T.J. Hockenson vs. JAX
Hockenson hasn't been too good this year in fantasy. Coming off a bye this week he will have some fresh legs this week. His fantasy season turns around starting this week against a terrible and injury-riddle Jacksonville defense.
5. Mike Gesicki vs. NYJ
I know Gesicki has been a huge disappointment this year. I think that will change at least for this week. After Parker, he will look to Gesicki in the RedZone this week. He won't have a lot of yards in this one but I believe he will have at least 2 TDS.
Sit of the week
1. Noah Fant vs. NE
New England gives up the fewest points to TEs this year. Belichick focuses on shutting down TEs on the opposing team, which is why Fant is a bad play this week.
Projection:
1 rec. 6 yds. 0 TDs.
2. Rob Gronkowski vs. GB
I have heard all this hype about Gronk turning his season around after Howard was injured and out for the season. I am here to put an end to all of that hype and gossip. The Buccaneers and Gronk have both come out and said that he is there to mainly block this year. That showed to hold up last week against the Bears. That's not going to change anytime this season.
3. Austin Hooper vs. PIT
Hooper makes the sit list once again no surprise he has been a huge fantasy disappointment this year. Now with Njoku back and Harrison Bryant being there, I would trust one them over hooper this year. Honestly though, I wouldn't trust any Browns TE the rest of the year. Plus he's going up against the very tough Steelers defense.
4. Hayden Hurst vs. MIN
People were expecting a lot more from Hurst this year. He has been terrible this season. Plus there are far too many weapons for Ryan in that Atlanta offense. Which is part of the reason why he hasn't lived up to his expectations. Plus the Falcons are doing a total revamp so I don't know if Hurst will be part of that plan. They face a Vikings defense that is pretty good against the pass this year. I don't count last week's game because they played the Seahawks and nobody has been able to shut down their offense this year.
5. Jimmy Graham vs. CAR
Graham had a good game last week. I think this week the Panthers/Bears game will be more of a field goal game. Which is bad news for Graham this week.With that said he will have a down game.
I'm not going to give any explanation for kickers or defenses I am going to give start/sit of the week with projections then I will give you the rest of the top 5 start/sit list.
Kickers
Start of the week
1. Younghoe Koo vs. MIN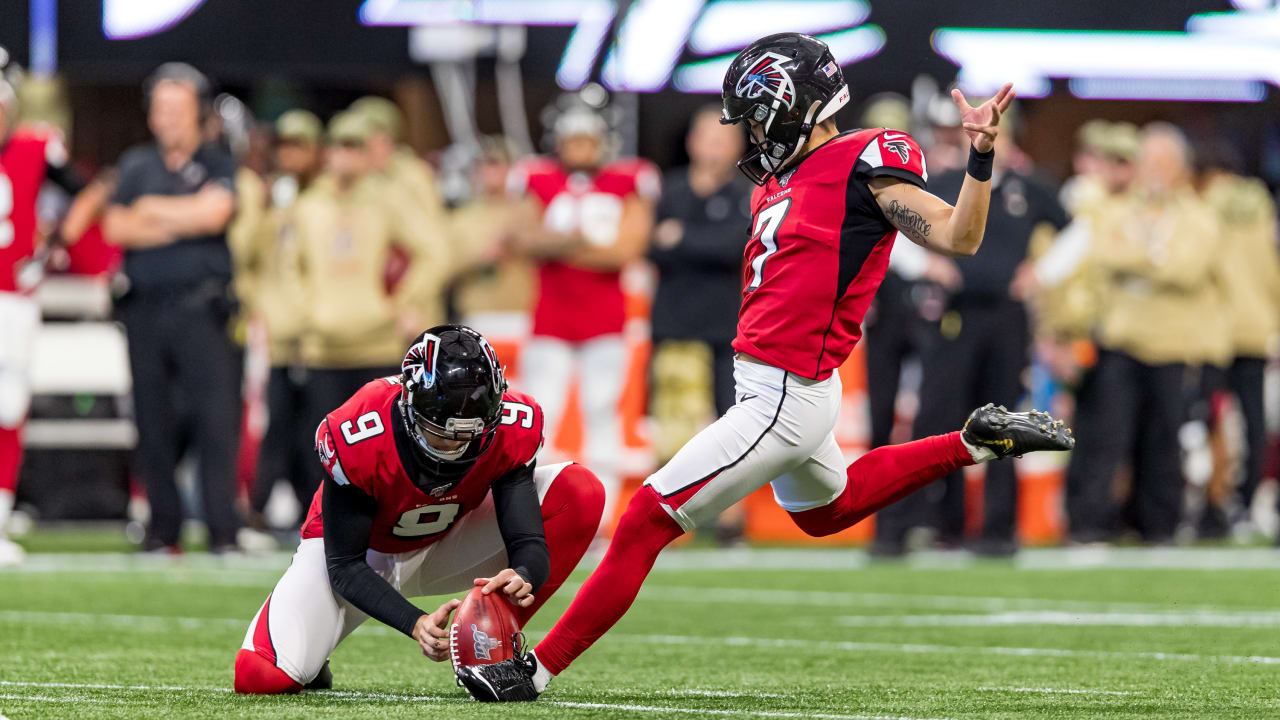 Projection:
4 fgs. 3 xpts.
2. Rodrigo Blankenship vs. CIN
3. Matt Prater vs. JAX
4. Joey Slye vs. CHI
5. Chris Boswell vs. CLE
Sit of the week
1.Tyler Bass vs. KC
Projection:
1 fgm. 3 mfgs. 1 xp. 1 mxp.
2. Ka'imi Fairbairn vs. TEN
3. Sam Sloman vs. SF
4. Jake Elliot vs. BAL
5. Randy Bullock vs. IND
Defenses
Start of the week
1. New England vs. Denver
Projections:
225yds. 3 pts allowed 6 sacks 2 int 1 ff 1 td
2. Chicago vs. Carolina
3. Green Bay vs. Tampa Bay
4. Indianapolis vs. Cincinnati
5. Los Angles Rams vs. San Francisco
Sit of the week
1. Tampa Bay vs. Green Bay
Projection:
485 yds. 1 int 1 sack 0 ff 0 tds.
2. Dallas vs. Arizona
3. New York Jets vs. Miami
4. Buffalo vs. Kansas City
5. Cleveland vs. Pittsburgh
I had a lot of fun writing this and I hope all of this advice helps everyone. I'll be back next week with more fantasy advice.
Check-in with All Everything Entertainment for more NFL and Fantasy news!