New York Rangers Have a Bright Future
February 8th, 2018 is a date that will live forever in the minds of Rangers fans as the date that the trajectory of the franchise changed. In a letter the team sent to their season ticket holders, the Rangers finally had to admit, publicly, that the championship window had closed on their core having gone back to 2006. The run featured two division championships, two President's trophies, eleven playoff series wins, three Eastern Conference Finals appearances, and a Stanley Cup Finals appearance. What's missing from that impressive list of accomplishments is the one accomplishment that really matters. Being that the 13-year competitive run followed a brutal string of seven consecutive seasons of no postseason appearances, for the Rangers, it absolutely would be considered successful. However, that success is relative. Remember, the Rangers have 1 (one) championship since before the attack on Pearl Harbor.
In that letter, Glen Sather and Jeff Gorton laid it all out there for Rangers fans. In no uncertain terms, they made it clear that changes were coming. They made it clear that "this may mean we lose some familiar faces, guys we all care about and respect." They made it clear that the doors were open for business and the core that had led the recent success was going to be dismantled. This was to be done in the hopes of the rebirth of a perennial contender on 7th avenue. What the Rangers have done from that fateful February day on has been nothing short of incredible.
As Rangers fans look forward to the 2019-2020 season on Broadway, we need to take stock of where the team has been to project out where the team is going. And, if you ask any Rangers fan, it's been a pretty exciting ride to this point. While it's true that this rebuild was set in motion prior to the letter, the very public acknowledgment of the team's direction released a boost of nitrous oxide to the rebuild that Dominic Toretto could only dream of. What the Rangers have done in a rather short period of time is nothing short of exceptional. The Rangers cupboard had been widely graded in the bottom 5 of the league, resulting from the annual trade of their 1st round pick in order to augment their then-current Stanley Cup chances. New York did not make a single first-round selection from 2013 to 2016 and only made two 2nd round selections over that timeframe as well. In short order, Jeff Gorton and his team have built what is now universally deemed the top prospect pool in all of hockey, and here is how they got there:
– Traded Derek Stepan and Antti Raanta for Tony DeAngelo and 2017 7th overall pick
– Drafted Lias Andersson with 2017 7th overall pick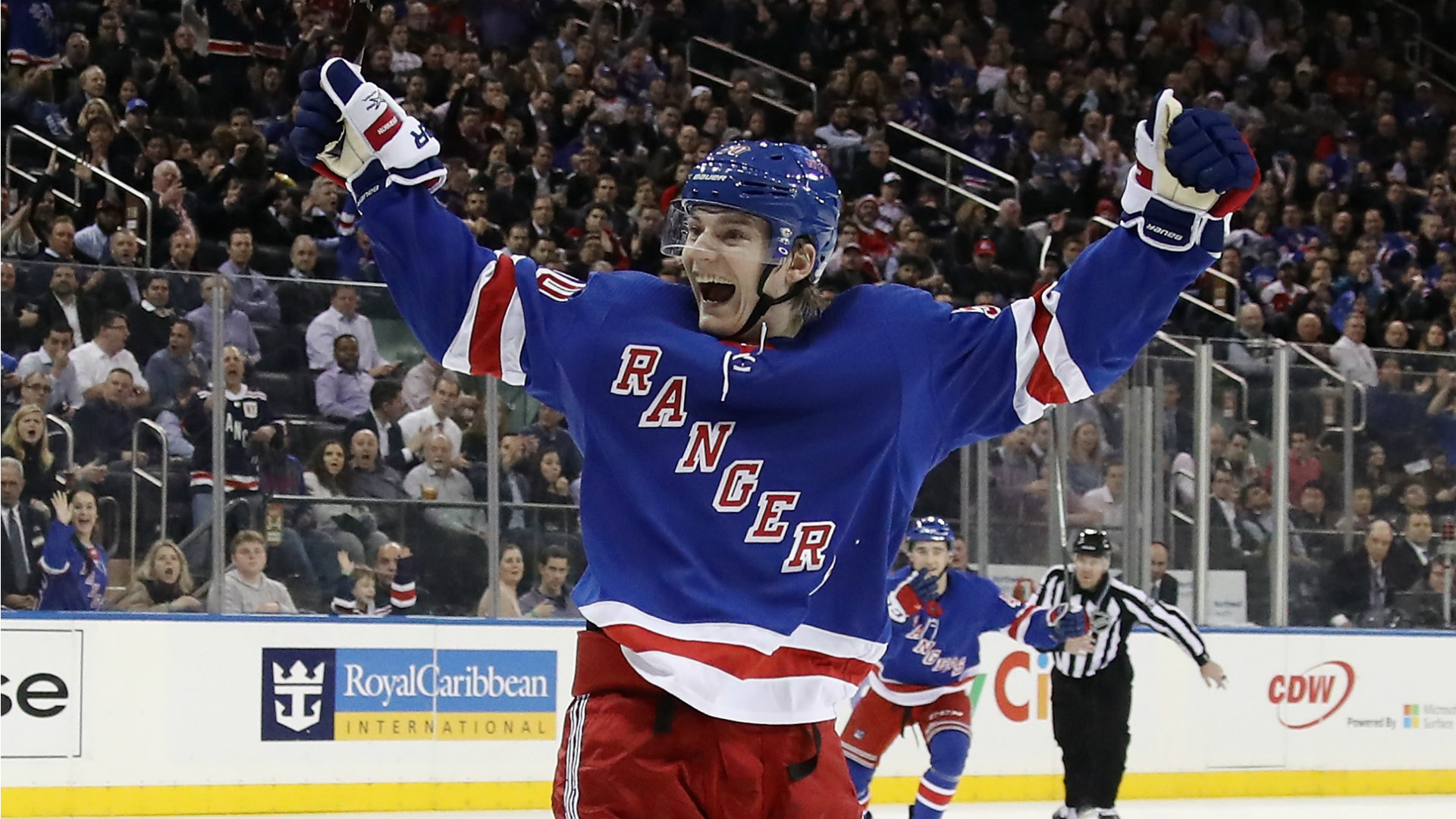 – Drafted Filip Chytil with 2017 21st overall pick
– Traded Michael Grabner for Yegor Rykov and a 2nd rounder
– Traded Rick Nash to Boston for Ryan Lindgren, 2018 1st rounder, and Ryan Spooner
– Traded Ryan McDonagh and JT Miller to Tampa Bay for Brett Howden, Libor Hajek, Vladislav Namestnikov, 2018 1st rounder, 2019 2nd rounder
– Alain Vigneault fired, David Quinn hired
– Drafted Vitali Kravtsov with 2018 9th overall pick
– Traded up to draft K'Andre Miller with 2018 22nd overall pick
– Drafted Nils Lundkvist with 2018 28th overall pick
– Traded Ryan Spooner for Ryan Strome
– Traded Kevin Hayes to Winnipeg for Brendan Lemieux and a 2019 1st rounder
– Traded Mats Zuccarello to Dallas for 2019 2nd round pick and 2020 3rd round pick
– Traded a 2nd and a conditional 3rd to Carolina for Adam Fox

– Traded Neal Pionk and Winnipeg's 2019 1st round pick back to Winnipeg for rights to Jacob Trouba
– Drafted Kaapo Kakko with 2019 2nd overall pick
– Signed Artemi Panarin to a 7 year, $81.5M deal
– Signed Jacob Trouba to a 7 year, $56M deal
As you can see, pundits around the hockey world have nothing but great things to say about what's going on at Madison Square Garden.
The future in New York is as bright as it can be. But as the puck is about to drop on the 2019-2020 campaign, we have to really look at where the Rangers are in the timeline of their rebuild. For as many questions as have been answered for this team, that's how many questions remain, and how many new questions have come up.
There are questions about players on the last year of their deals. Questions about players who have too much term left at too much money. Of course we can't overlook the elephant in the room, the current/future in goal.
The most pressing question right now for the Rangers is what to do with Chris Kreider. A Rangers stalwart going back to his debut during the 2012 playoffs, the 28-year-old is entering the last year of his contract at $4.625M and will warrant a 7-year pact paying upwards of $7M a year. This is what his market value is. A major point of debate within Ranger nation is what to do with Kreider. Should he be traded? Should he get a new deal? A strong case can be made on either side of that discussion. Eyes wide open, Kreider has never scored 30 goals in a season and would be age 29 before his new deal would take effect. A 7-year deal would take Kreider, known for his speed, past age 35 in Ranger blue. How fast will Kreider skate when he's 35? Do you really want to find out while he's on the payroll?
If the Rangers are 2 years, maybe 3 years away, from their true window of championship contention, is it prudent to commit the necessary number and term to keep Kreider around into his mid 30's when there will be other mouths to feed moving forward? To me, the answer is clear. The answer is for the Rangers to move Chris Kreider in a trade and continue to build with the assets they get back. The Rangers need to avoid crowning Kreider the next in a string of long contracts given to "good soldier" core Blueshirts like we've seen for Marc Staal and Dan Girardi. Those deals, well, they haven't worked out. Let's take the high road and leave it at that.
Speaking of Marc Staal, both he and fellow defenseman Brendan Smith come into this season with 2 years left on their deals, combining to cost over $10M against the salary cap. Smith will find his way onto the AHL Hartford Wolfpack roster this year, but Staal's no-movement-clause prevents a similar fate. At this point, in both of these cases, nothing will heal the wounds except time. In a related move, Kevin Shattenkirk was bought out to save some cap space this year because Smith and Staal could not be moved in any conventional fashion. A controversial move in Rangerdom for sure and many expect Shattenkirk to be revitalized in Tampa Bay, while the Rangers are burdened with a cap penalty over $6M next season.
Forwards Ryan Strome and Vladislav Namestnikov are only going to be on the roster because the Rangers could not give them away this past offseason in efforts to create cap space. Both players enter the final years of their deals and count for $7.1M against the cap together. They both came to the Rangers with first-round pedigree, both high picks in the 2011 draft, with Strome going 5th to the Islanders and Namestnikov going 27th to Tampa Bay. Strome was acquired from Edmonton midseason and looks promising to the naked eye, having scored 18 goals in 63 games. However, Strome's shooting percentage in 18-19 was 22.5%, meaning roughly 1 out of every 4 shots hit the back of the net. Regression will rear its ugly head for Strome into next year, and that's why the Rangers couldn't give him away this past summer. Namestnikov has been exposed as largely a product of his environment with the Lightning, as his production has fallen off a cliff after joining the Rangers. No team was interested in the remaining $4M year on his deal, even at 50% retained.
Currently, both Tony DeAngelo and Brendan Lemieux remain unsigned. The young players are not arbitration-eligible, so their options are relatively limited. DeAngelo had a far better time of it under Coach David Quinn than he had under former bench boss Alain Vigneault, who is now the Flyers' problem. DeAngelo put up a career-high 30 points in 61 games last year, after a dismal debut the year prior, with only 8 points in 32. The 23-year-old often gets overlooked as part of the Rangers future, simply because of the depth the Rangers have in their future defense. It's a good problem to have if you're the Rangers. Lemieux, the son of former Ranger nemesis Claude Lemieux, brings a sandpaper element the Rangers haven't truly had since the heyday of Sean Avery and could be a very useful 4th line presence for the team. It's expected they'll sign their qualifying offers and look for longer and more lucrative deals next season.
The elephant in the room, however, or in this case, the crease, is Henrik Lundqvist. The face of the franchise for almost 15 years, time is not on the 37-year-old's side. The 2018-19 season was Lundqvist's first in his career with a goals-against-average above 3, despite starting the fewest games of any healthy season he's ever had. With Father Time ticking, the emergence of Alexandar Georgiev, and the arrival of Igor Shesterkin, it's difficult to realistically envision the Rangers offering Lundqvist a new deal when his $8.5M per year deal ends after next season. The hardest part is figuring out what to do this year, and next year, with the fan-favorite and future Hall of Famer. Georgiev will continue to push Lundqvist, with some believing he may earn a full time share this season.
You would be hard-pressed to find a team in the NHL that has added more talent to their pro roster this offseason than the Rangers. A 78-point team from a year ago will add an elite front line forward in Artemi Panarin and a true number one defenseman in Jacob Trouba. Both Panarin and Trouba forced their way to New York because they wanted to be Rangers. All this in spite of the team being on a rebuilding timeline. Panarin took less money than was offered by the Islanders, Blue Jackets, and Avalanche. Trouba made it clear to Winnipeg that he would only accept a trade to the Rangers. It's always nice to be a destination, despite the high state taxes that don't burden teams like the Lightning, Predators, and Golden Knights. Panarin has averaged roughly a point-per-game in all 4 years of his career, and Trouba comes in off of a career-high 50-point output in Winnipeg a season ago. These are major additions.
Sometimes, ping pong balls can make a general manager look very good. The Rangers were very fortunate to have moved up in the lottery to a position where they had the easiest pick in the entire draft. The selection was, for all intents and purposes, idiot-proof. The gap between Kaapo Kakko and eventual top selection Jack Hughes was razor-thin by the time the draft rolled around, thanks largely to a spectacular, flashy, highlight-driven performance Kakko put on at the World Championships for Finland. Hughes was always going to be the first name called in the 2019 draft, regardless of who was making the pick. He was preordained as "the guy" for a few years leading into this draft, and natural centers carry more value than natural wingers. The NHL would not have brought Hughes in for the lottery broadcast if there was any tangible chance that the American center wouldn't be chosen with the top spot.
Kakko will expedite things for the Rangers tremendously, and is one of three legitimate Calder Trophy candidates, along with winger Vitali Kravtsov and defenseman Adam Fox. The presence of Kakko overshadows how great Kravtsov has been since the Rangers drafted him 9th overall in 2018. Kravtsov would be the top name of the prospect pool for the vast majority of the rest of the league. He has made Rangers fans forget all about Oliver Wahlstrom, whom the Rangers passed over and allowed to fall into the hands of the rival Islanders. Adam Fox is regarded by many to be a top-10 pick if the 2016 draft was redone, and he brings an offensive, playmaking element to the Rangers backend that they really have not had since the days of Brian Leetch. Let me be clear. I am not putting Adam Fox in the conversation with Leetch, but he is a supremely talented offensive defenseman, as evidenced by his leading the nation with 1.45 points per game this past season at Harvard. The Rangers may not have had to give up the picks they did to Carolina to get him, as it was widely believed he would just sign with the Rangers as a free agent after his senior year, but kudos to Jeff and the guys for being aggressive and leaving nothing to chance.
New York also has a couple of young European defensemen who will challenge for roster spots in Libor Hajek and Yegor Rykov, both acquired in the 2018 deadline purge. You may recall that Hajek was the central target for Jeff Gorton in the Ryan McDonagh trade. He struggled in Hartford but looked very good in a short stint with the big club last year prior to an injury that prematurely ended his season. Rykov, acquired from New Jersey in the Michael Grabner trade and signed this summer from the KHL, looks like he will also challenge for a spot, but only 6 get to start. Tarmo Reunanen, the Rangers 4th round selection in 2016, is a guy very few people talk about, but has all the tools to be a solid addition to the Rangers backend in the future. There are actually too many NHL caliber defensive prospects for New York. It's a very good problem to have.
Between the pipes, 2014 5th round pick Igor Shesterkin has finally signed a contract with the Rangers but is expected to spend time in Hartford to start. KHL goalies usually need a transition period when coming to North America, and with Lundqvist and Georgiev set in goal, there's no need to rush the 23-year-old to Manhattan. Shesterkin was utterly dominant in his KHL career, posting 1.11 goals against average last season. Those stellar numbers will not translate exactly when it comes to being a goaltender in North America, but it's obviously more encouraging to see good numbers than bad.
So what's there not to be excited about? Well, nothing. Rangers fans should be excited. Very, very excited. But, the time may not be right now.
The 2nd wildcard team in the Eastern Conference last season were the Blue Jackets, with 98 points. To put that in perspective, that's only 2 points behind the Maple Leafs. Did the Rangers do enough this offseason to add 20 more points to the standings? Probably not. If you look below the surface at the Rangers production last season, the team finished dead last in regulation and overtime wins with 26. New York was tied for the league lead with 14 standings points from losses in overtime and in shootouts. The talent additions are fantastic, but this team is a ways away from being where they need to be. Additionally, the teams around them have improved dramatically as well.
In their own division, the Devils and Flyers are expected to post improvements over last season. On the other side of the East, the same can be said about the Canadiens and Panthers. The road to a postseason berth is going to be very difficult for a very young Rangers team in an Eastern Conference where the surrounding teams continue to improve and realize the fruits of their drafting, the way the Rangers will for years to come.
Ignoring all of the externalities, and focusing solely in-house, what are realistic expectations for Kakko and Kravtsov? Kakko is a lock for the opening night roster, but Kravtsov may need a little adjustment period in the AHL. Is it realistic to expect rookie Adam Fox to slide into the 2nd defensive pair right away?
Many questions remain about the depth at center. Mika Zibanejad is criminally underrated as a top line center, and he'll keep that role, but behind him is a minefield of questions without real answers. Filip Chytil will enter his 2nd full season at the pro level turning 20 in early September. The Rangers would love it if he and fellow 2017 1st rounder Lias Andersson would fill the 2nd and 3rd line center roles, but that remains to be seen. Brett Howden, acquired in the Tampa trade, looks primed for a role centering the 3rd or 4th line. These young players could prove to be the answers for the questions at center, but we're just not there yet.
Expectations in the short term should be tempered, while it's arguable that the expectations for the longer term may actually need to be raised. It will be very exciting for Rangers fans to see the kids take on big roles this year, but there's still much more talent on the way. Many believe the crown jewel of the Rangers future defense is K'Andre Miller, the 2018 22nd overall pick who will play this year in Wisconsin for the Badgers. Fellow 2018 1st rounder, Nils Lundkvist, gets often overlooked with the depth the Rangers have defensively, but he's got all the makings of future 2nd pair defender as well. Recently drafted Matthew Robertson is the newest shiny toy, added in round 2 of the 2019 draft.
Up front, 2017 6th rounder Morgan Barron has all the makings of a middle-six center in the future, and could be a diamond-in-the-rough pick for Gorton. He will enter his junior year at Cornell University this year. Undrafted free agent signings Patrick Newell and Jake Elmer will start their pro careers on Hartford this season, but project out to play top-9 winger roles in the future as well.
This isn't to throw a wet blanket on what the Rangers have done. Not in the least is this meant to do that. However, if we are honest with ourselves, we have to face the reality that this team has 2 seasons here of waiting for old contracts to tick away. Lundqvist, Smith, and Staal are a massive anchor on the salary cap that cannot be understated or ignored. Once those shackles have been taken off, and the Rangers are free of the burdens, it's going to be full steam ahead for the Blueshirts. Today, however, is not that day.
It's going to be a fun year at MSG. Enjoy the ride. Just temper those expectations, for now.
Brian Attard (Twitter @SportsBox_BA)
Catch me every Tuesday night at 8:30pm EST on The Highly Opinionated Show on The Sports Box (Facebook @sportsboxshow)