Fantasy Sit/Start – TE Edition – Week 2
Week 1 has come and gone for the 2019 NFL regular season. As we continue the regular season, let's take a look at the best starts and sits heading into Week 2 of your fantasy football matchups.
Start of the Week: Darren Waller vs Kansas City Chiefs
From sleeper to superstar, Darren Waller is a must add and a must start against the Kansas City Chiefs. The Chiefs defense did not look great, giving up multiple scores to the likes of DJ Chark and Chris Conley. Waller led his team in targets and tied for the lead in catches, pulling in 7 receptions for 70 yards. Unless you have one of the big three tight ends or rookie breakout TJ Hockenson, I'm probably starting Waller over every other tight end in the league.
Start – TJ Hockenson vs Los Angeles Chargers: Speaking of TJ Hockenson, the rookie tight end showed out against the Arizona Cardinals, and I don't see that trend changing anytime soon. Barring injury, I think Hock is a lock to be the first and only rookie tight end since Mike Ditka to crack 1000 yards in his rookie year.
Start – Mark Andrews vs Arizona Cardinals: Another favorite tight end sleeper of mine, Mark Andrews quickly showed his worth, pulling in the most receptions for the Ravens in the crushing win over the lackluster Miami Dolphins. The Ravens will face a defense that's almost as bad and has historically struggled against opposing tight ends, so make sure Andrews is in your lineup.
Start – David Njoku @ New York Jets: One positive from the stinker the Browns played against the Titans was the continued progress of David Njoku. Njoku found the endzone, and should continue to be a primary red-zone target, making him a bit of a boom or bust player. This week against the Jets, I think he booms.
Start – Zach Ertz @ Atlanta Falcons: I usually would not include a player the caliber of Zach Ertz on these lists, as the answer to whether you start or sit someone like Ertz is pretty obvious. However, given how he struggled last week, I'm here to tell you not to worry, I feel an overcorrection coming on Sunday.
Start – Jared Cook @ Los Angeles Rams: I was a little surprised at how Jared Cook underperformed against the Houston Texans, but it should have been expected. Cook's problems as a fantasy football asset have always stemmed from inconsistency, and that was the case on Monday. In a low key revenge game, I'm still sliding Cook into my starting lineup in what should be a high scoring matchup.
Sit of the Week: OJ Howard @ Carolina Panthers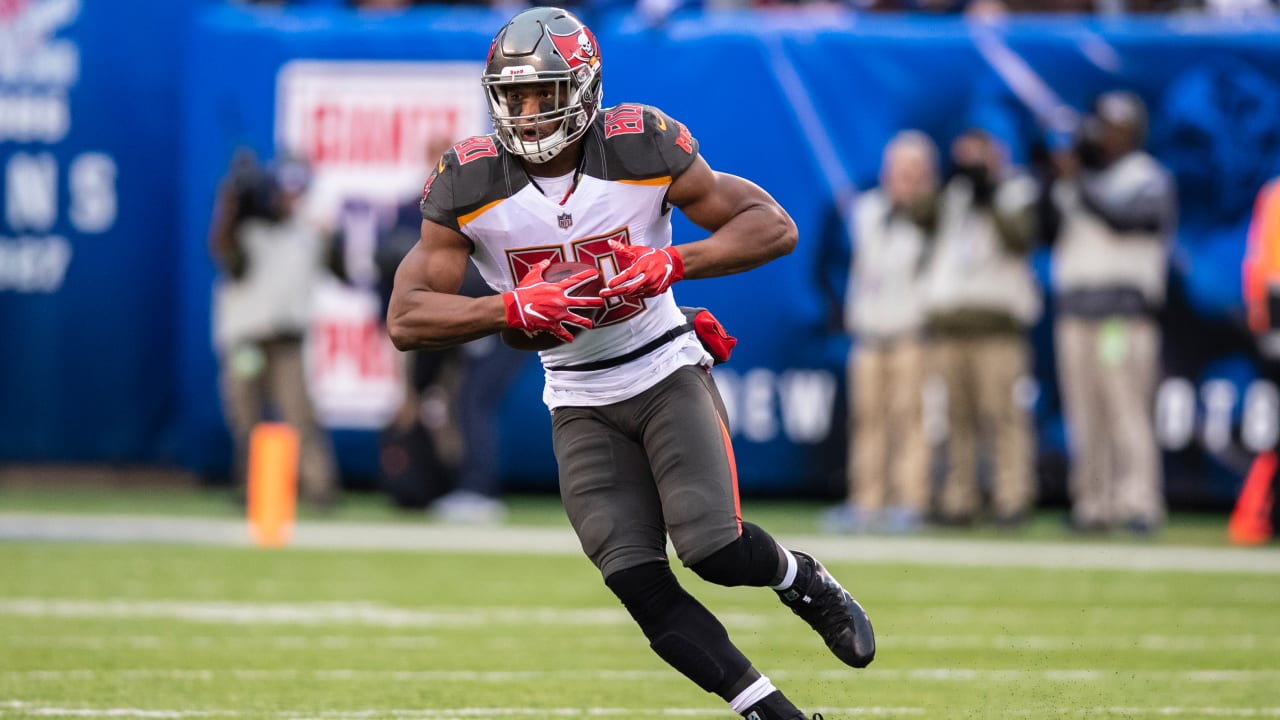 Firmly entrenched in my "I'll believe it when I see it" camp, OJ Howard disappointed in a decent matchup against the 49ers this past week. Now on a short week and facing a better defense than he faced the week before, I'm sitting OJ Howard. Not only did he struggle in the matchup against the 49ers, he saw his red–zone looks go to fellow tight end Cameron Brate. Brate had two touchdowns called back on penalties, and was the better tight end on the field in my opinion. I'm fading Howard until I see something different out of the young tight end.
Sit – Jack Doyle @ Tennessee Titans: Both of the Colts tight ends were major disappointments in the overtime game against the Chargers, amassing just 1 reception each. Though I'm not big on Eric Ebron, I at least feel he has some upside as a red-zone target. I don't get the same feeling with Doyle, who's always been a better PPR player than a standard league scorer. At this point, I'm benching all Colts' tight ends until I see one takeover the job.
Sit – Kyle Rudolph @ Green Bay Packers: Rudolph the Red-zone Reindeer was more like a goose on Sunday, dropping a big egg if you were unfortunate enough to play him. Rudolph is a good real-life tight end, but he has little to no value in fantasy football. Don't fall for this trap.
Sit – Jimmy Graham vs Minnesota Vikings: Jimmy Graham made an appearance in the end zone against a vaunted Bears defense, but ultimately still was on the low end of tight end scoring because of his volume. The Vikings defense is almost as good as the Bears, so I wouldn't be excited about starting Graham this week.
Sit – Vernon Davis vs Dallas Cowboys: Vernon Davis turned back the clock on Sunday and had my favorite touchdown grab of the week. He made a beautiful catch down the sideline and proceeded to jump over and around Eagles defenders as he romped into the endzone. Unless you're really desperate, I wouldn't take the chance that Davis has another explosive play like this on Sunday against the Cowboys.
Sit – Noah Fant vs Chicago Bears: While fellow rookie TJ Hockenson has exploded onto the scene, Noah Fant has been an afterthought in Denver. While he may have value later this season, I'm not going to be risking Fant in my lineup against the vaunted Bears defense.