Friday Night Smackdown opened with a recap of everything that happened to Daniel Bryan from the previous week, from the speech The Miz gave, to Bryan turning full babyface and joining in with the audience in the "Yes!" chant, to the dramatic conclusion of The Fiend pulling him underneath the ring and ripping his hair out.
The Miz would make his way down to the ring for what should've been another episode of Miz TV with Daniel Bryan as his guest. Instead, he would explain that Bryan has vanished since his assault and that he, The Miz, would get to the bottom of everything and find out what happened to Bryan.
Bray Wyatt would pop-up on the jumbotron, hanging a photo of Daniel Bryan, eyes crossed out, on his Wall of Friends. He'd warn The Miz to not go snooping around as The Fiend may not be finished with Bryan yet. He'd invite The Miz to "play" with him instead, but The Miz would bring up how much Bryan is like family to the WWE Universe, which happened to be Wyatt's Word of the Day. He talked about how he used to have a family and about how he was about to join a new family, pulling a family photo of The Miz with Maryse and their two daughters.
The segment, which would probably be the best non-wrestling segment I've seen on Smackdown in years, would end with The Miz marching his way to the back and Bray Wyatt laughing.
Alexa Bliss def. Mandy Rose – ⭐⭐☆☆☆

Certainly not the best of returns for Alexa Bliss, and certainly not the best of matches, as things would get pretty weird between both ladies at the start of this match when Rose would pull Bliss' fake eyelashes off. Midway through the match, Rose would start slapping Bliss over and over again, yelling about how she'll never be as pretty as her. This would cause Bliss to Hulk-out and grab Rose by the neck, landing this weird hair pull/non-lifted chokeslam. By the end of the match, Sonya DeVille would try to interfere and Nikki Cross would put a stop to it, giving Bliss enough time to land the Twisted Bliss for the win.
At the buffet table, Dana Brooke would be hassled by Drake Maverick, who would be interrupted by Elias once more, followed by a jaunty insult tune about Maverick that included his wife. Maverick would slap Elias and Elias promised something would happen.
After the commercial break, Maverick would be in the ring to challenge Elias, not to a match, but a fight. It would go about as well as anyone could predict with Elias going as far as to spank Maverick. It would end with Elias landing the Drift Away on Maverick and Dana Brooke pinning him in a fake count.

The real shame here is that Maverick is a surprisingly good wrestler and I haven't seen him wrestle on RAW or Smackdown since he was called up.
Ali & Shorty G vs. Lucha House Party vs. The Revival vs. Heavy Machinery – Fatal Four-Way Elimination Match For Match At TLC – ⭐⭐⭐☆☆
With the New Day watching from the announcer's table, all eight men would have a fantastic match with a lot of fun spots, especially between Ali and Gran Metalik, and Tucker and Lince Dorado.

• Heavy Machinery would eliminate Lucha House Party with The Compactor on Metalik.
• The Revival would eliminate Heavy Machinery with a roll-up on Otis.
• The Revival would eliminate the team of Ali and Shorty G with the Shatter Machine on Shorty G.

After the match, The Revival would cut a promo letting the New Day know that Old School fundamental wrestling will bring the titles back to where they belong.
After video package recapping what happened last week between Roman Reigns and Robert Roode, Kayle Braxton would interview Reigns about his match later on against Dolph Ziggler and his match against Baron Corbin at TLC. His answers were vague at best about him doing the same thing every night in the ring, and be it with a table, ladder, or chair, Reigns was going to embarrass Corbin at TLC.
Another promo with a returning Sheamus.
Lacey Evans vs. Jobber – ☆☆☆☆☆

I don't like squash matches.

After the match, Sasha Banks would make her way to ring and the two would have a tit for tat before Evans would feign the Woman's Right, causing Banks to fall backward, screaming. At the front of the stage, Bayley would jump Evans, and she and Banks would stand over her.
Roman Reigns def. Dolph Ziggler – ⭐⭐⭐☆☆

I said it last week, I'll say it again: A Roman Reigns match is a Roman Reigns match. It's one of three match formulas, two of which share the same outcome. This would be Match Formula B, and I'll explain the formulas for you here shortly.
Roman Reigns would pick up the win with the Spear, but then things would get weird. Weirder than Bliss' fake eyelashes. Corbin's porters would attack Reigns, all of whom were taken out with one hit. This gave Corbin enough time to jump Reigns, dragging him outside of the ring.
It would turn into a six-on-one fight as Reigns would battle Ziggler, Corbin, and his porters. In the end, the numbers game would get the better of him, and they would handcuff Reigns to the ring post and slather him with canned dog food.
Final Thoughts –

I don't know what happened, this show started strong but then ended on a fizzle. Outside of the Four-Way Tag Team Elimination Match, which ended up being the best match of the evening, everything was blase. Alexa Bliss didn't really come back strong, you can create drama without a squash match, and it's really hard for me to get behind a Roman Reigns match because of the three match formulas. Allow me to explain:

• Match Formula A: Reigns starts strong, loses control at about the half-way mark, tries to make a comeback but fails, then succeeds in the second comeback attempt to pick up the win with a Superman Punch and Spear.

• Match Formula B: Roman has no control of the majority of the match, has a couple of build moments but nothing pans out, he then comes back in the final moments and wins the match with, sometimes, just the Spear (See match above).

• Match Formula C: Roman loses and not in a decent way. Either his opponent will have his number throughout the whole match or multiple people will attack him.
The drama between Bray Wyatt and The Miz was great at first, but then it got weird as The Miz would be on the phone with his wife, telling her to lock the doors and windows, and then The Miz would walk into a red room to find his family photo from earlier, but with Bray Wyatt photoshopped in, holding little Skye. He'd get jumped from behind.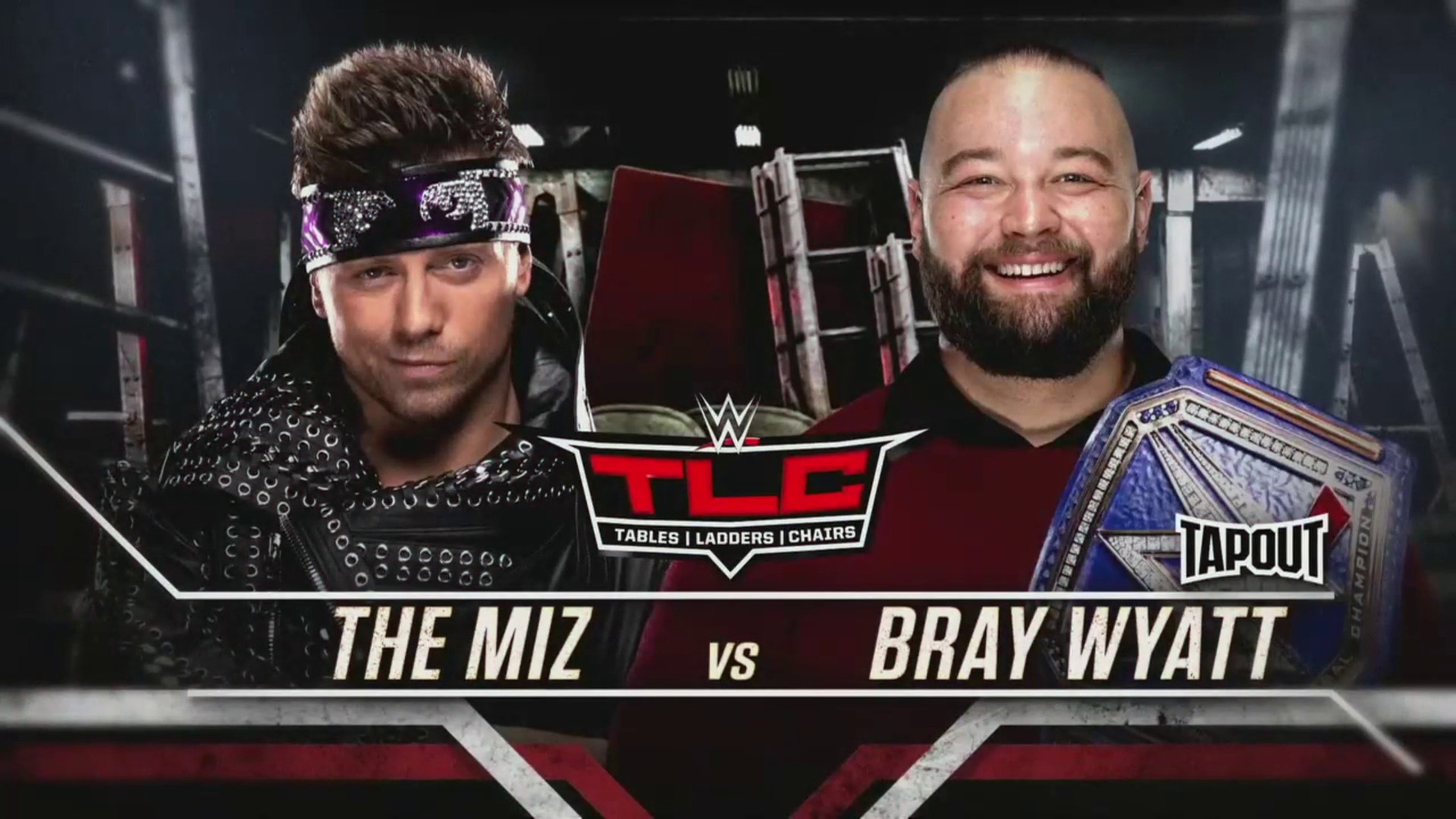 I will say this, I do find it interesting that the match at TLC is The Miz vs. Bray Wyatt and not The Fiend. If done right, and only in this way, this could be brilliant. Hear me out:

• The Miz is defeating Bray Wyatt because he's not as strong as The Fiend.
• In the middle of the match, when Bray is about to lose, the lights go off. When they come back on, they're blood red, and it's no longer Bray in the ring, but the Fiend.

If WWE can get Wyatt to switch costumes in 15-seconds in darkness to pull this off, it would be epic and enhance the Bray Wyatt character. Only time will tell though.
After everything is said and done, this wasn't a great episode of Smackdown. The final segment with Reigns was a bit much and not in a campy sort of way. I was vaguely aware of the crowd booing, but I'm pretty sure it was over how bad the segment was, not over the drama WWE was trying to create.

This week's episode of Friday Night Smackdown is a very soft…