After a recap of last week's main event with King Corbin and Dolph Zigger smearing dog food all over Roman Reigns, Friday Night Smackdown would start with King Corbin and his hype man, Dolph Ziggler. Corbin would highlight his 2019 accomplishments with his King of the Ring and Kurt Angle victories. He'd mention the Twitter buzz over the last week and that's why he had security all over the stadium. Ziggler would get a few words in before he was interrupted by the New Day.
The four would bicker back and forth before Kingston would slap Corbin for his actions on Roman the previous week. Corbin would take it and threaten to humiliate Kingston next.
Alexa Bliss & Nikki Cross def. Fire & Desire – ⭐☆☆☆☆
During a pre-match interview in the curtain room, Mandy Rose and Sonya DeVille would jump Bliss and Cross, and battle them down to the ring. The match would end before I could finish the first sentence with Cross delivering the Swinging Neckbreaker on DeVille for the win.

I'm pretty sure this was a squash match.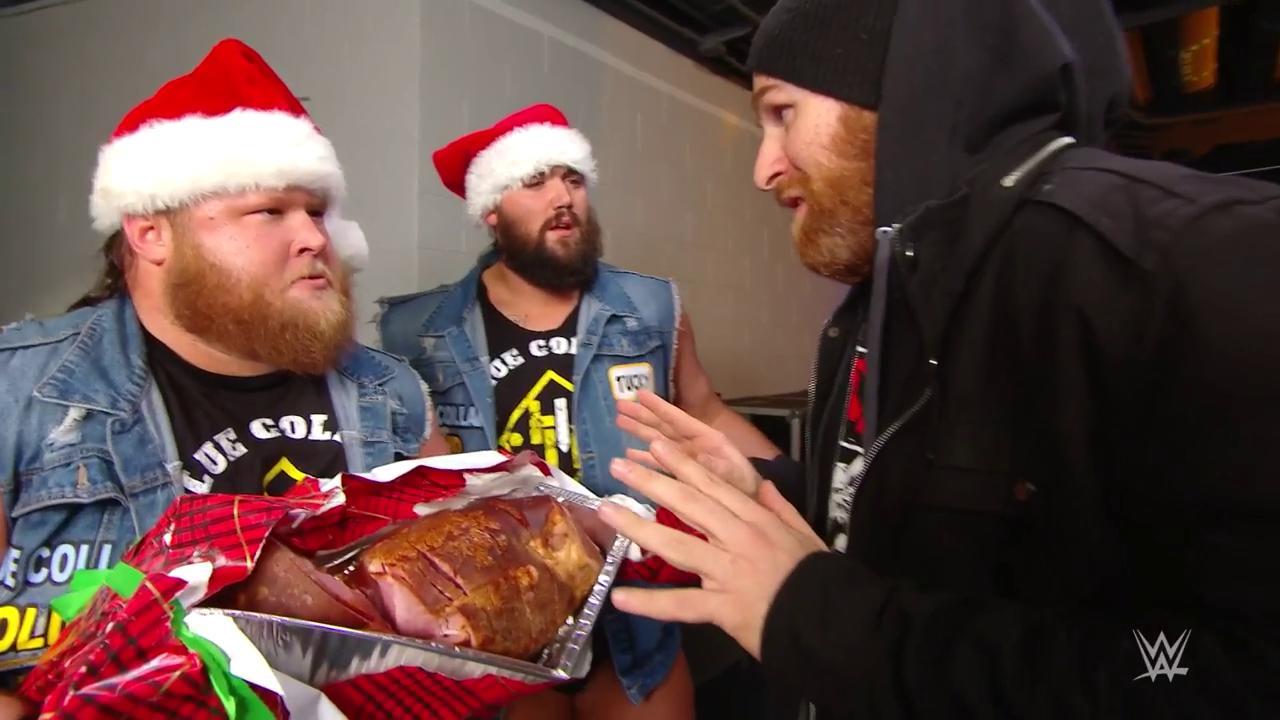 In a backstage segment, Otis would give Zayn a Christmas ham as a Secret Santa gift. Zayn, a vegan, would be offended over this and would verbally assault Otis for his stupidity before nearly getting attacked by the two. Nakamura and Cesaro would step in before it would happen and Cesaro would throw the ham to the floor.
The Revival def. Shorty G & Ali – ⭐⭐⭐☆☆
This was a fantastic match between all four men. Shorty G and Ali would do their best to take the match, landing high-risk moves and splashes, but The Revival would win with the Shatter Machine after catching Ali from the top rope.
Kayla Braxton would interview Bayley backstage about Lacey Evans. She would be interrupted by Elias and Dana Brooke. Elias would sing a typical song for Bayley as her Secret Santa gift, insulting her looks, and Bayley would challenge Brooke to a match because she enjoyed it.
Bayley def. Dana Brooke – ⭐⭐☆☆☆
Dana would put up a good fight, even getting a fantastic spot in with a powerbomb, but Bayley would pick up the win after a kick to Brooke's knee and the Rose Plant. There wasn't anything special in this match other than making Bayley look stronger.
After a recap of everything that happened between The Miz and Bray Wyatt last week, Renee Young interviewed The Miz inside his home, but not before another promo from Sheamus, talking about how he's ready to bring the heart back to Smackdown.
They'd talk about Daniel Bryan and The Miz's interest in him. The Miz doesn't like Bryan, but he does respect him, and it was time for him to do the right thing. Before the interview would end, Renee would ask if The Miz was afraid of Bray Wyatt. He wouldn't answer because Maryse would scream, causing The Miz to run to her. She would show the baby cam of Monroe playing in her crib before Bray Wyatt would pop up on the screen. The screen would return back to Monroe jumping up in down in her crib, surrounded by all of Wyatt's puppets.
Back on the jumbotron, we'd get another episode of Firefly Fun House. Bray would talk about their match at TLC. He would also talk about training The Miz not to feel anything. Pain. Love. All he had to do was let Wyatt in.
Nakamura & Cesaro def. Heavy Machinery – ⭐⭐⭐☆☆
Tucker and Otis would definitely use their weight to their advantage and get all their spots in, but after interference from Sami Zayn, Nakamura would land the Kinshasa on Tucker for the win. This has been the trend with Heavy Machinery and I don't expect anything more from them until sometime mid-2020.
The New Day def. Corbin & Ziggler – ⭐⭐☆☆☆
In what was supposed to be a one-on-one between Kingston and Corbin would turn into a tag match between The New Day and Corbin & Ziggler. The match started off with Corbin dominating all but the final minutes before Kingston would land the SOS. Ziggler would interfere, get kicked from ringside, but then return to attack Big-E. All four men would start fighting one another and the original match would be called with no victor.
After the commercial break, we'd return to the ring for a tag match that ended just as abruptly as the one-on-one. Corbin would lock in the handcuffs on Kingston and he and Ziggler would hang Kingston from the ring post. Wash, rinse, and repeat, and Corbin would pull dog food from under the ring.
This would cue Roman Reigns to march down to the ring, knocking security guards and The Revival out of the way to try and get to Corbin. The numbers game would get the better of Roman for the moment as The Revival and Ziggler would set him up on the announcer's table for Ziggler to elbow drive him through it. Big-E would save the day and Roman would grab Ziggler from the ladder and drive him through the announcer's table.
Final Thoughts:
Look, I understand WWE doesn't want any of their pay-per-view participating performers to get injured at the last second so they have them play it safe, but tonight's episode of Smackdown was boring. Other than Shorty G and Ali, it felt like everyone was playing it safe, and that doesn't make for an entertaining show.
I'm so sick and tired of WWE sticking with the same ten women. They have had, time and time again, opportunities to get other female performers, like Dana Brooke, over and they refuse to. Yeah, I know, we're going to get Liv Morgan either at TLC or on RAW, and she'll get her push, but she's coming back blonde, and we all know how much Daddy McMahon loves his blondes. She is a phenomenal performer who, with a concussion, and being physically held back by Sarah Logan, got back in the ring against the Bella Twins (See below) for a spot.
The main event was weird. It started as a solo match which got called with no winner and then turned into a tag match which got called with a DQ within three-minutes after the commercial break return. It was all to set up Roman Reigns getting his vengeance on Ziggler and Corbin with four minutes left in the show. And what was up with the advertising for "unchained" Roman Reigns? He wasn't unchained, he was typical Roman Reigns, slowly walking down the ramp, knocking security guards out of the way with one punch.
That's not unchained. That's typical.
I don't know, maybe it's me, maybe I was expecting something more from the final show leading to a pay-per-view about tables, ladders, and chairs. There wasn't even a chair used in this show, which is leading me to believe that this TLC is going to suck, which isn't surprising given the matches, stories, and rivalries we've seen this year.

This week's episode of Friday Night Smackdown gets a low…