Over the many years that I've been alive, I have seen my fair share of sequels. Some, like Sam Raimi's Spider-Man 2 and Dreamworks' Shrek 2, were fantastic and far better than the original, while other sequels like Transformers: Revenge of the Fallen and Batman & Robin (#Batnipples), left me scratching my head, wondering who to blame for the 120+ minutes that I just wasted. Frozen 2, thankfully, is the former, and to my recollection, Disney's first successful animated-musical sequel.
In the original film, in a passing line with no other explanation, we learn that Elsa was born with her powers. Elsa would also sing about the past being in the past, but it's difficult to move forward from a past that's a mystery, and writers – directors Jennifer Lee and Chris Buck focus the sequel around that point in a fresh, original sequel with its music being a bit darker and more mature.
In the film, our heroine sits on the throne of Arendelle, but even with all the perks of being high queen, Elsa (Adele Dazeem. Sorry, John Travolta) feels this void inside her. She begins to hear this siren song calling out to her from a distance that only she can hear as supernatural forces begin to attack the kingdom. She believes this song, and the damage, are both from the Enchanted Forest that her mother told her about when she was a child. It could also be where her powers came from. Along with Anna (Kristen Bell), Kristoff (Jonathan Groff), Olaf (Josh Gad), and Sven the Reindeer, she takes off "Into The Unknown" (See what I did there?).
Due to the critical success of the original film, Frozen 2 has a big-budget feel, and it shows in the gorgeous landscapes that make me wish I could live there, the way the pink fire demon pulses, the way the water horse ripples, and the giant rock ogres in general. Yet despite all this glamour, the movie stays focused on Elsa's powers and insecurities, which makes this film near-perfect.
Just like the original writer-director team returns, so does the original composing team of Robert Lopez and Kristen Anderson-Lopez as they pen some brand-new catchy, oftentimes funny, songs that your kids will demand to listen to in the car for years to come. Idina Menzel's "Into the Unknown" will be number one on the charts soon to come, as Panic At The Disco! has already done a pretty awesome cover of the song. "Into the Woods" an 80s ballad from Jonathan Kristoff will definitely go over the kid's heads with its imagery, but it's still catchy.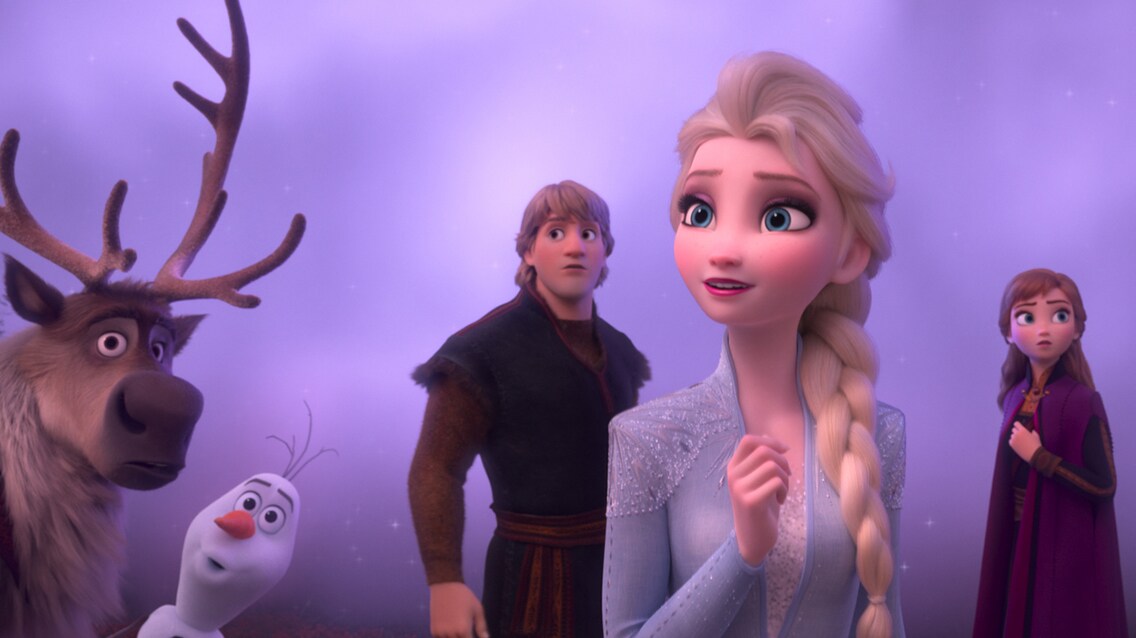 This film isn't like its predecessor. It is darker, by color and story, and it's exactly where this franchise needed to go. The deaths in the story only enhance the maturity of this new film, making me appreciate that it's not another insipid musical where all your dreams magically come true. (Ha! Zootopia).