How I became a Tennessee Titans Fan
So before whatever happens to the Titans for the rest of their epic playoff run, I want to tell the story of how I became a Titans fan.
The year was 2007 and I was in the 7th grade and let's just say I had some issues fitting in and trying to express myself I was on my 3rd different school in the course of 3 years and my home life wasn't ideal. So my gym teacher at the time suggested I picked up a hobby and I wasn't the type that had any hobbies outside of going home and wrestling on my trampoline until it got. I knew I was athletic and I knew I'd be good at other sports if I gave them a chance so I did.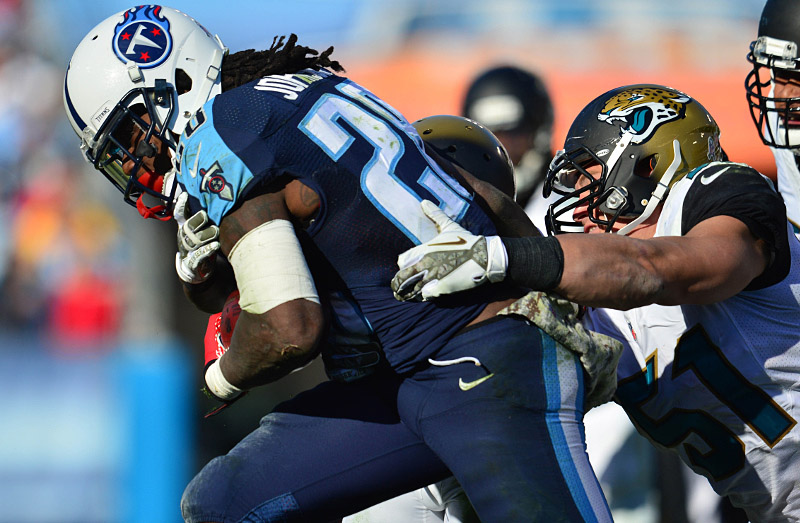 I found out about an open tryout session for a younger youth basketball league where my school was split into two different teams Chatham White and Chatham Black. And open tryouts were insane we probably had over 40 people tryout and being that I never played basketball my chances of making the team were slim to none, and at the end of the session when the coaches got to drafting the teams my chances were getting even slimmer, so I found myself at the backend of the draft and no offense to any of my friends that might see this the backend consisted of mainly un-athletic and overweight guys and I remember being the last player selected for the Chatham Black and in a league that everyone plays I felt awful that I didn't do more to get myself taken higher but I couldn't complain too much because I had made the team.
Throughout that season our team would see a lot of ups and downs, from coaching changes to players fighting one another and we saw a few guys quit the team, I myself was so frustrated after a game I tossed my jersey and didn't have any intention of ever playing again and then the strangest turn of events happened I was at home late at night and we got an unexpected visit from my coach and he told me he felt like he mismanaged a lot of things that night and he understood my frustration (which coaches hardly ever do) and he told me how much he thought I had been improving and that it was showing in the practices and I was given a new role on the team I was a man to man defender my coaches every game would have my guard the best player on the other team because they told me I played defense exceptionally well that was until……………. I started getting some technical fouls because I was playing my man to hard and I may be let out too much aggression for the game of basketball. So at the end of the season, my coaches recommended I give football a try because my aggression would do me some good in the sport.
So I spent the entire offseason trying to learn more about the game of football, I'd start going outside to play football with the guys in gym class opposed to staying in and playing kickball or dodgeball. And let's just say the coaches didn't have to teach me the aggressive side of football because I had that down but I didn't have to learn how to play the game. So my coach asked me if I ever watched the NFL and I said I never watched football before ever so my homework assignment was to go home and watch a game of football over the weekend so I did and it just so happened to be a game between the Tennessee Titans and the Pittsburgh Steelers. It was Chris Johnson's rookie year in the NFL and the same year Kerry Collins lead us to a 13-3 #1 Seed in the AFC season and I wanted to follow a team that won and a team that was aggressive and the Titans were all of that. I returned to school to tell my coach I did my homework and he asked me who my favorite team and player was and all I could remember was the Titans because they had really cool uniforms and Chris Johnson because I remember he had a monstrous game on the ground so as the time went on throughout the course of the year I made it my mission to do as much research on the team as possible and I mean I researched everything I could from ex-coaches to players to fact the team wasn't always the Tennessee Titans and instantly I had fallen in love with the team.
Unfortunately for me, I picked a bad time to become a Titans fan as after going 1 and done that year in the divisional round my Titans went into a full regress, the following year Kerry Collins got benched after an 0-6 start Vince Young was reinserted as the starter and we finished 8-8 and missed the playoffs, the following year we were terrible and all I remember of the season was Vince Young throwing his shoulder pads into the crowd after an Overtime loss to the Washington Redskins and we would see Vince Young released and Jeff Fisher fired and that's when things started going downhill. Mike Munchak was hired to replace Jeff Fisher and he got off to an okay start going 9-7 with Matt Hassleback and then turning things over to Jake Locker the following year we went 6-10 and Locker struggled to stay healthy the year after we went 7-9 and Munchak was on the verge of a contract extension but he refused to fire coordinators or change things so he was replaced with Ken Whisenhunt who had been a great offensive coordinator for the Chargers and he thought he could turn Jake Locker into a star we got off to a hot start by defeating the Chiefs in a blowout week 1 and then we went 2-14.
The Titans went onto draft Marcus Mariota the following year #2 overall and Whisenhunt was fired after a 1-6 start and replaced with Mike Mularkey (Congratulations on your retirement coach) who was the catalyst of the Titans turnaround. The Titans went onto our first winning season in 5 years the first year under Mularkey the 2nd year we won made our first playoff appearance 8 years and won a playoff game. The Mike Vrabel regime took over and has continued the Titans winning ways by going 18-14 in his first 2 years on the job and now after a long time spent in the basement of the NFL the Titans are playing in the AFC Championship and I couldn't be more proud of a team than I am now because I've followed these guys since 2008 and this is my team and I'm going to stick it out with them.
#TITANUP