After another video package recapping the drama between Bray Wyatt and Seth Rollins from the Hell In A Cell main event to Seth feeding his pyromania and burning down the Firefly Fun House set, Raw would officially kick things off with Ric Flair coming down to the ring to promote his match against Team Hogan at Crown Jewel, and to announce the fifth member of his team, the returning Drew McIntyre.
Drew McIntyre vs. Ricochet: In his first match since his loss to Ricochet in the first round of the King of the Ring tournament on August 26th, McIntyre wasted no time taking control of the match and delivering chest slaps so hard, you could see the vibrations ripple through the air.
The two would put on a match that would not only put their King Of the Ring match to shame, but would easily be the best match that I've seen in months from, and set an impossible standard for the rest of the show. In the end, McIntyre would pick up the win with The Claymore, and would continue the assault after the bell rang with the Glasgow Kiss and the Alabama Slam into the steel steps.
Phenomenal match. Welcome back, Drew McIntyre! Grade: A++
We'd get a series of interviews, promos, and video packages starting with a recap of what happened between The Street Profits and The OC last week, a backstage interview with The OC complaining about The Street Profits and Cleveland, a video package with matches past involving Andrade, Aleister Black, and Buddy Murphy, and finally a promo from all too serious vampire Aleister Black from the Phantom Zone, getting ready to release a rage that's been clawing at him.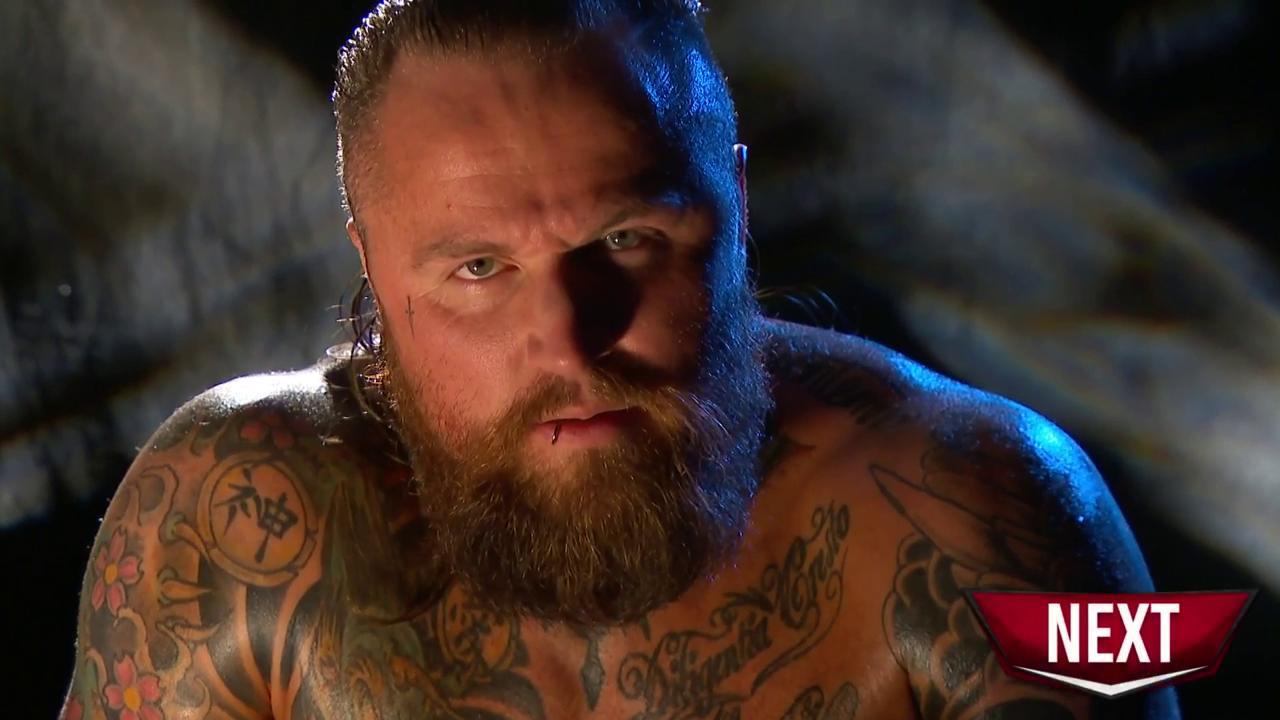 Aleister Black vs. Jason Reynolds: What a fantastic idea. Let's put a squash match on after that incredible match between Ricochet and McIntyre. I will admit, Reynolds put on more of a show than I expected, but a squash match is a squash match, and that means…Grade: F
Authors Of Pain would cut another promo in their own language.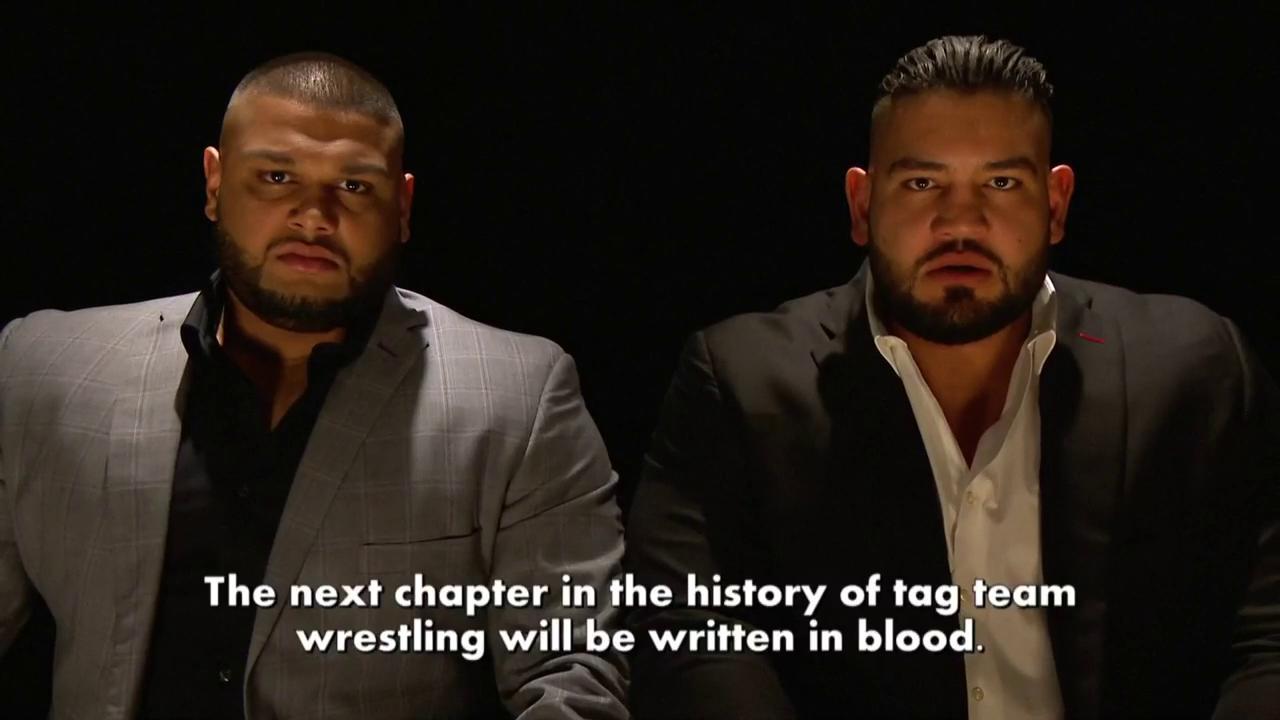 Continuing the steep of the show, Jerry Lawler would host another episode of The King's Court, with his guest being Rusev. Briefly recapping everything horrible that's happened in this cuckold story, Lawler would ask Rusev for his side of the story. Rusev would blame Bobby Lashley, but he still believed that he and Lana would make it through all of this. This would prompt Lashley and Lana to show up on the jumbotron, at some fancy restaurant, enjoying desert, because that's what people in affairs do. Rusev would know exactly where they are and would run out of the stadium.
Andrade vs. Sin Cara: Andrade would come down to the ring with Zelina Vega cutting a promo about how his entrance is the siren to the end of people's careers, and mock the meaning of Sin Cara's name. The two, who haven't wrestled together since last year after Sin Cara was injured during the original match, would put on a typical Lucha match, filled with the usual flips, dips, and hurricanerana's that make that brand of wrestling so entertaining.
In the end, after interference from Zelina Vega, Andrade would pick up the win with WWE, once again, showing that they believe he's not good enough to finish his own match clean. Everyone keeps saying that Andrade is the future of the WWE, but I can't remember the last time that Andrade has won a match without help from Zelina. I get that he's a heel, but even Dolph Ziggler won matches on his own without help from Vicky Guerrero. Grade: C+
Charly Caruso would interview Humberto Carillo, getting his opinion on the match between Sin Cara and Andrade. He would compliment both performers and then talk about when he becomes WWE champion, he wouldn't be the kind that plays with fire, taking a shot at Seth Rollins.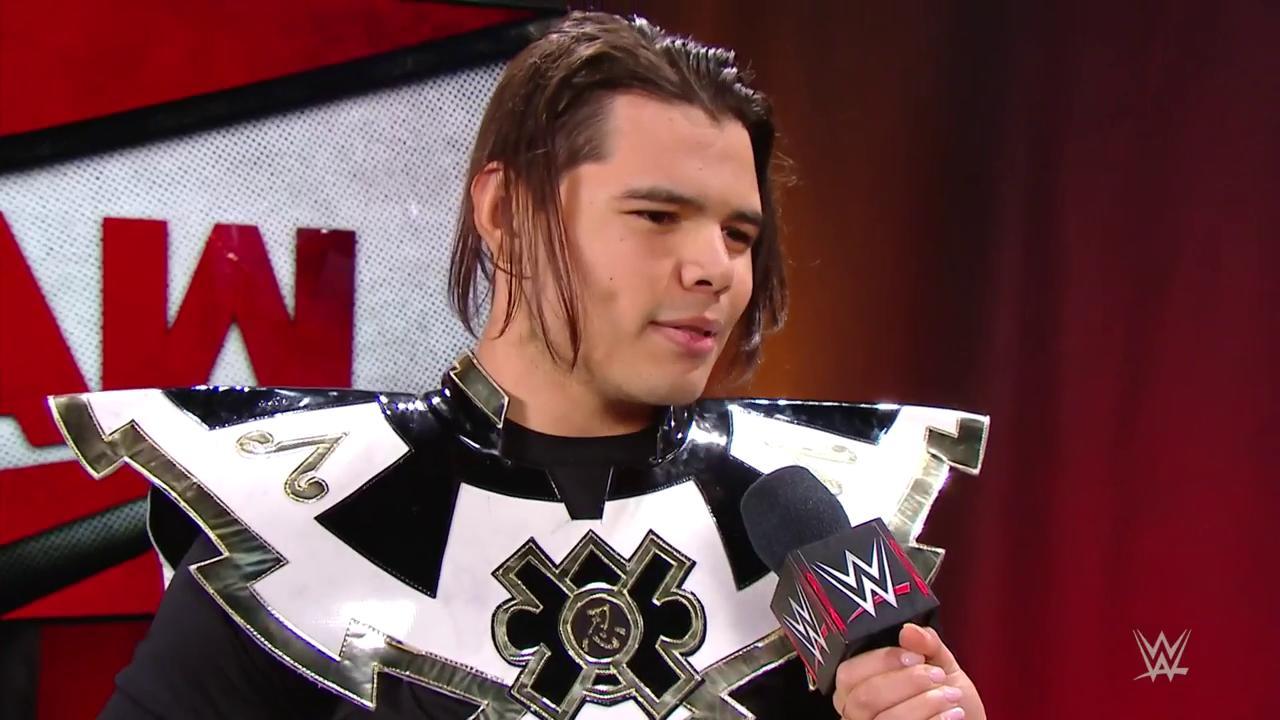 R-Truth would lose his 24/7 Title to one of the Bollywood Boys. I don't know who as they were both there, screaming in their own language, and running away.
Zack Ryder & Curt Hawkins vs. The Viking Raiders (C): In typical fashion, the Viking Raiders would take control of the match with their usual brutish fashion. Ryder and Hawkins would get some shots in, but the Viking Raiders would win with the Viking Experience on Hawkins.
The Viking Raiders are the Raw Tag Team Champions, and I know that both teams are in that absurd Tag Team Turmoil match at Crown Jewel, so why did this feel like a squash match? I know Ryder and Hawkins are jobbers, and I know they'll be the first, if not the first of three teams eliminated next Thursday, but now that the Viking Raiders are champions, certainly WWE can do something with them. Grade: C+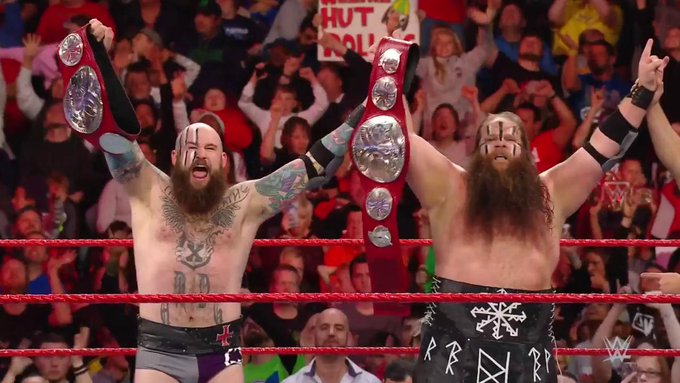 Continuing the story from earlier tonight, Bobby Lashley and Lana would be asked if they could leave the restaurant due to Rusev being on his way. They would not. The terrible drama would continue as Rusev would arrive and begin attacking Lashley.
The next sequence was weird to say the very least. The pieces of the puzzle fit with one another, and a valid point is made, but it's still a weird sequence. It would all start with Rey Mysterio coming down to the ring to thank everyone for their support and to let everyone know what's going to happen at Crown Jewel between Velazquez and Lesnar. Paul Heyman would pop up on the jumbotron, thanking Mysterio for serving Velazquez on a platter to his client, who's been salivating for nine years for the opportunity to get revenge. Rey would say something in Spanish, and this would prompt Shelton Benjamin, who happened to train Lesnar when they were in college.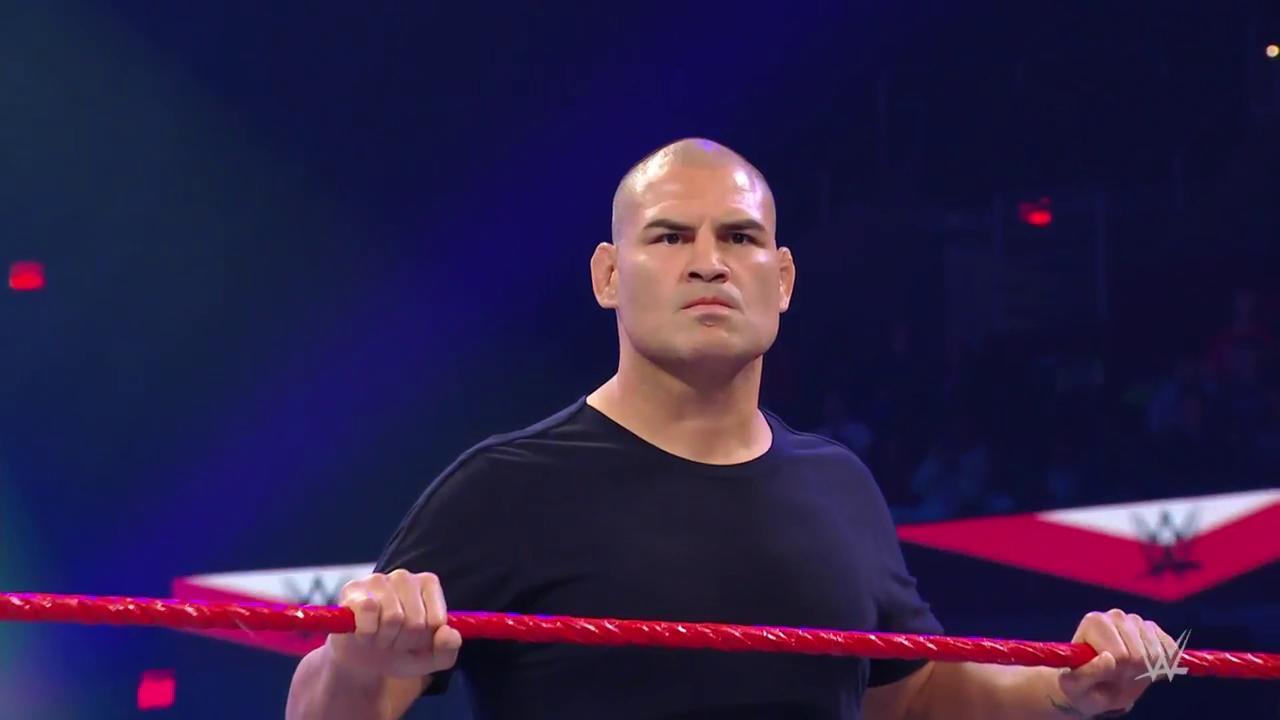 Shelton Benjamin isn't particularly happy with how recent events have been playing out, regardless of the fact that Lesnar is on Smackdown and Benjamin is on Raw. He brings up a point that Cain Velazquez, who has no training in professional wrestling, or a signed contract at the time, comes walking down to the ring and gets a title shot. Meanwhile, you have wrestlers like Benjamin, who've put their lives and body into this sport and, after a near decade, have nothing to show for it.
Benjamin would start getting physical with Rey Mysterio and Cain Velazquez would come down to the ring and show off wrestling moves akin to the level of amateur with basic takedowns, some body shots, and a headlock, choking Benjamin shortly before letting him go.
Charly Caruso would interview Seth Rollins who would, once again, talk about surviving The Fiend and burning down his Firefly Fun House set. He would then see Humberto Carillo and challenge him to his first match.
Seth Rollins vs. Humberto Carillo: The two performers would have a tit for tat wrestling match at first to show the rookie's moves, but as the match carried on, the style of wrestling changed, and it became more hard hitting. Both performers would put on a great show, making Humberto look strong in front of the fans, but the match went too long, and the fans slowly lost interest as the match continued beyond a certain point. That is until Seth predictably won with the curb stomp.
That's the problem with knowledgeable wrestling fans, we know the point of a debut match. Grade: B+
R-Truth would sneak up on the wrong Bollywood Boy to pin him and failed.
The O.C. vs. Street Profits: Regardless of how I feel about their segments on every episode of Raw, the Street Profits know how to put on a solid match. After all, Paul Heyman is really high on these two, so there has to be something, right?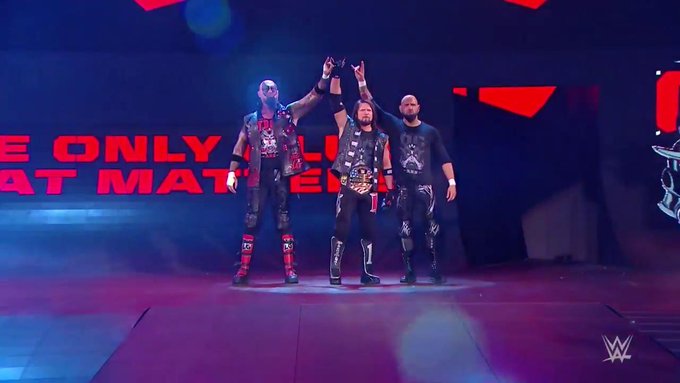 The teams would put on a great match with the unique situation of veteran vs. rookie. The O.C did a fantastic job selling the Street Profits, especially with AJ Styles on the outside barking orders and interfering when he has the chance. I wouldn't say the match had a lot of high spots, but holy crap can Ford jump.
After AJ Styles started to get more ballsy, the best moments of the match came at the end as Kevin Owens would charge down to the ring and stun Styles. In the meantime, Ford is flying over the top rope to land on Anderson, but while in mid-air, Dawkins would tag himself him, sidewalk slam Gallows, and pick up the win as he tags Ford back in to land this ultra high frog splash. Grade: B+
As fantastic as the start of Raw was, it's a pity that everything started going downhill from that point after. The squash match with Aleister Black and the garbage story between Rusev, Lashley, and Lana, certainly didn't help anything. Raw has been having such a hard time keeping hold of some 500K wrestling fans by the third hour, that it probably would've been more beneficial to have saved the Ricochet/McIntyre match for later in the evening.
I enjoyed seeing all the new talent wrestling, but the one guy I did want to see, Buddy Murphy, wasn't on the show. It would almost be too smart for WWE to put Buddy and Aleister in a rivalry, and I don't understand why they're not utilizing their pool of new talent. Hell, they made us watch some near two-month rivalry between Lacey Evans and Natalya before anyone even realized the two were in a rivalry.
This week's episode of Monday Night Raw is a solid: