*Note: I will not discuss the draft picks. All draft picks will be posted at the bottom.
For the first time since the main event at Hell In A Cell eight days ago, Monday Night Raw addressed the giant red-painted elephant in the room and showed a video package of the feud and match that killed The Fiend. I suppose now that The Fiend is Smackdown's problem, who could care less, right?
Becky Lynch vs. Charlotte Flair: The show would open proper to Becky Lynch coming down to the ring for her match that would set the tone for the rest of the show when it came to draft picks, except instead of going against Sasha Banks as previously noted on Friday Night Smackdown and Twitter, she would now be facing against Charlotte Flair… again.
Charlotte would come down to the ring and cut her own little promo, saying that she's equally as tired of facing against Lynch every other episode of Raw or Smackdown. She would say that she just wants to be friends again by delivering a stiff right hook. The two would then begin to pummel one another, delivery body shots before officials ran down to the ring to break them up.
Once the match started, the two would go at one another like wild animals in another pay-per-view main event quality match that was only ten minutes, but it felt like an eternity as no matter what either one could do, neither would get the three count over their opponent. It looked like this match was never going to end, until Becky Lynch delivered the most dominating move in sports entertainment today: the roll-up. Grade: A+
Seth Rollins would be interviewed backstage, talking about his Hell In A Cell match, and how everywhere he goes, The Fiend is right there. So instead of being the hunted, he would become the hunter. If you don't know what the thud sound is, that's WWE kicking another dead dog.
Andrade vs. Ali: Andrade would come down to the ring for a match against a no-entrance Ali, and we all know what that means! It's time for verse!

Prince Ali, loser is he,
Constantly losing.
What's to say, fought Andrade,
and he lost.

He cannot find a win,
Keeps taking it on the chin
Boy, would it be a spin!
Poor Prince Ali.

Grade: C-
The Viking Raiders vs. The Glorious Showoffs (C) – Raw Tag Team Titles: After six months of squash matches and matches where they played second fiddle to a tag partner, the Viking Raiders finally got their title shot, and to no surprise, charged in headfirst like–well–Vikings. It was your surprisingly basic babyface vs. heel tag match. The babyfaces would start strong, but the heels would take control through some dirty trick, and then the babyfaces would rally before all four would stand evenly. After a hot tag on Ivar and a crazy double elbow handspring on Ziggler and Roode, the Viking Raiders would become your new Raw Tag Team Champions with the Viking Experience on Ziggler.
As I said earlier, this was a surprisingly basic match, but it didn't make it any less entertaining. Ziggler and Roode are masters when it comes to selling hits, and Ivar is an absolute freak with his Cruiserweight-styled moves. Maybe it's time to finally join the raid. Grade: B+
Aleister Black vs. Eric Young: Aleister Black wins another squash match showing off his new submission. The fact that Black is even doing squash matches is absolutely absurd. Grade: F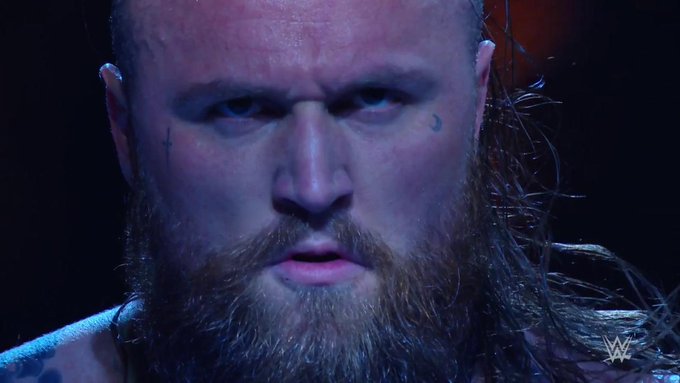 Ricochet vs. Shelton Benjamin: I never thought I'd say this, but this was one of your typical Ricochet matches. It was a nice change of pace with Shelton Benjamin, who is one-half power and one-half speed, but even with his handful of shots in, he couldn't stop Ricochet from landing The Recoil after landing on his feet from what looked like an arm drag from the top rope. Grade: B-
After a video package involving Tyson Fury and Braun Strowman, we'd get a contract signing between the two for Crown Jewel. It was your somewhat typical signing with Strowman saying something, then Tyson saying something, then Strowman returning with something, and Tyson returning with something. Strowman would then smash the table while Tyson would snap a pen.
Cedric Alexander vs. Buddy Murphy: The two former Cruiserweight Champions reminded us who they once were by putting on one of the most entertaining matches of the night. There was no story, there was no drama, there were two guys in the ring, performing amazing spots. In the end, Murphy would land Murphy's Law on Alexander for the win. Grade: B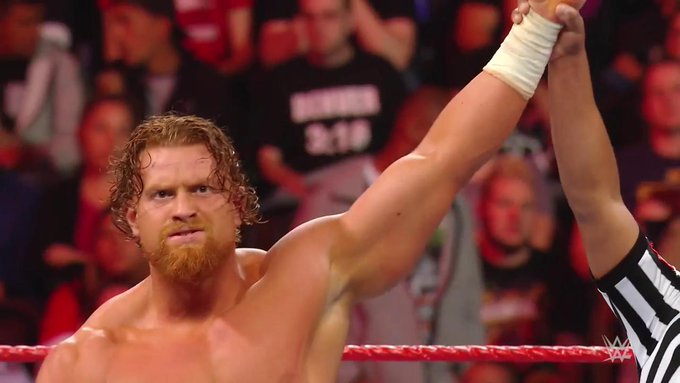 The Kabuki Warriors vs. Natalya & Lacey Evans: Talk about an odd couple. Natalya and Lacey Evans would challenge The Kabuki Warriors to a surprisingly dull match filled with rest holds. What's even crazier is that of the fifteen-ish minute match, Lacey saw three of those minutes when she managed to land the Woman's Right of Kairi Sane before Asuka, after a blind tag, delivered the most powerful move in sports entertainment as well. You cannot escape the roll-up! Grade: C-
In the final segment, and probably the final Firefly Fun House, Bray Wyatt would talk about how strong and brave Seth Rollins is before Seth came in and attacked Wyatt before burning the Fun House set down. It was very symbolic as we don't know what's going to happen to Bray when he goes to Smackdown, and I'm pretty sure Raw was done with the gimmick anyway. The show would end to the familiar sounds of people booing.
It's hard to do this review without comparing Raw to Smackdown, as both episodes were draft shows. One the one hand, Smackdown used all their sports connections to get personalities on air, to put together a decent show. Raw, on the other hand, used the same war room footage from Smackdown, had a handful of Premier League personalities from Britain talking about Shaemus for all of five seconds, and then lightly dabbled in the Seth Rollins/Bray Wyatt storyline until the very end. I mean, if you're going to have Seth go Fiend hunting, why not show him walking around?
Most of the matches were great, and given the roster that Raw drafted, we're definitely going to see some better matches coming our way. Having said that, I'm exhausted of Lynch vs. Flair. It was great that these two were on separate brands because it meant their matches would be few and far between and equally as impressive. Or so I thought.
Only time will tell if Raw will still be a powerhouse name. With Paul Heyman at the wheel, I don't see why not, especially with this unique combination of young blood and veterans on the show.

I give this week's episode of Monday Night Raw a solid…
Below is the final drafts: