https://pbs.twimg.com/media/D3utgqMXoAAjHtJ.jpg
NFL Week 1 Preseason Takeaways
We finally have gotten a first taste of NFL football, and boy does it taste good. While there isn't much to gleam from a bunch of third and fourth stringers playing most of the game, here are my five takeaways from Week 1 of the preseason.

Maybe the Giants Aren't That Bad?
It's still too early to say, but Dave Gettleman might be smarter than we've all given him credit for. I know it's just a pre-season game, but Daniel Jones looked good in action yesterday against the New York Jets. Jones displayed good pocket presence, solid footwork and a decent delivery. His ball placement was excellent, especially on his touchdown thrown to Bennie Fowler. Jones' performance has been highlighted also by the fact that Dwayne Haskins, who many (myself included) thought the Giants should have taken over Jones, struggled in extended game action this week against the Browns.
After being booed at the draft, Daniel Jones' perfect pre-season performance will now have fans and reporters alike clamoring for the young quarterback to start. If I was Eli, at this point I'd be thinking the only way I'll start again is to steal Daniel Jones' jersey. Essentially, Eli is now an evil twin who will have to steal his doppelgangers identity to maintain his NFL career.
The Patriots are Still Great
If you were hoping for a drop off from the most dominant team in the NFL for the last 18 seasons, I'm afraid I've got some bad news…
I understand it's just a pre-season game, but the Patriots crushed the Detroit Lions, who are coached by Matt Patricia. Patricia's team should at least be able to put up a fight against his former boss and mentor. Instead, Detroit's reserve offensive line gave up 6 sacks in the first half alone. The litany of young receivers on the Patriots' depth chart continued to shine, chewing up Lions' DB's like wads of gum. Jakobi Meyers finished his standout display with 6 receptions for 69 yards and 2 TD's. Maurice Harris continued to impress coaches and reporters with a 14 yard TD catch, and first round rookie N'Keal Harry looked great until he tweaked his hamstring.
The Browns Can Live Up to the Hype
Although Baker Mayfield only played one series, he looked mighty fine in that series, leading his team on an 86 yard drive for a touchdown. Rashard Higgins played extremely well, cementing his spot as the number three on the depth chart over the younger and more talented sophomore Antonio Callaway (who is now suspended 4 games). The Browns are already showing off their receiver depth, and that's without Jarvis Landry and star receiver Odell Beckham Jr.
Meanwhile on the defensive side of the ball, the Browns bullied the Redskins patchwork offensive line for most of the game. The Brown defense only gave up one touchdown, during a busted coverage, on a 46 yard pass from Case Keenum to Robert Davis. The Browns may not be headed to the Super Bowl, but this team could definitely make a playoff run and keeps the AFC North interesting.
Running Backs Don't Matter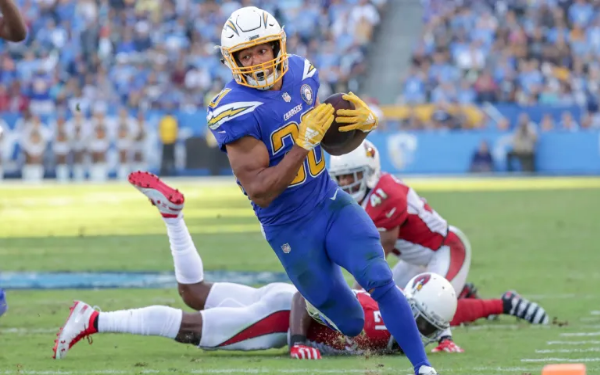 Melvin Gordon's holdout has been one of the main stories of this off-season. However, Thursday night may have negated what little leverage Gordon and his agent had in negotiations. Both Austin Ekeler and Justin Jackson looked good in limited action. Despite his goal line fumble, Ekeler made defenders look as if they were running in quicksand, while Jackson displayed good power on a 4 yard touchdown run.
The combination of Ekeler and Jackson make an excellent thunder and lightning combination in the Chargers' backfield. While neither player is the caliber of running back overall that Gordon is, together they provide an approximation of Gordon's production, but at a lower cost. This is the exact reason the running back position has been devalued in the NFL and Gordon's holdout may suffer because of this.
A New Star is Born in the Desert
The biggest story this off-season has been Kyler Murray. After the Arizona Cardinals traded away Josh Rosen, their first round pick from the year prior, and selected Murray first overall in the 2019 NFL Draft, eyebrows raised quicker than Dwayne "the Rock" Johnson's. Murray did not disappoint, displaying excellent movement and a nice arm, picking apart the sideline against the Chargers defense.
Kyler Murray is the current favorite for Offensive Rookie of the Year. His performance in week 1 of the pre-season has to have assuaged any fears the Cardinals may have had that their number one pick would turn out to be a bust. Murray has a promising and bright future with the Cardinals and although I don't believe the team is ready to make a legitimate run at the playoffs, they will definitely be fun to watch.