AEE chose to look at these two college football powerhouses, Oklahoma and Texas, as they get ready to play for the 115th time. Both with rich histories in the game played on the gridiron. Texas leads the all-time series 62-47-5, but the Sooners won the last meeting at the Big 12 championship 39-27. The Sooners are 21-16-3 in the Red River Rivalry when both teams are ranked.
The famous Red River Rivalry, there is not a game, quite like it. It is an atmosphere that is truly special. It has been called the Red River Showdown. Here are other names it was known as in the past: Red River Shootout and the Red River Classic. The game has been played at the Cotton Bowl, which is located in Dallas, Texas. The game occurs during the same timeframe as the State Fair in Texas. That fair typically happens in the month of October every year. This series in College Football has been of the most storied rivalries in all of sports. That's a little of the history, but let's get to the preview for 2019's Red River Showdown.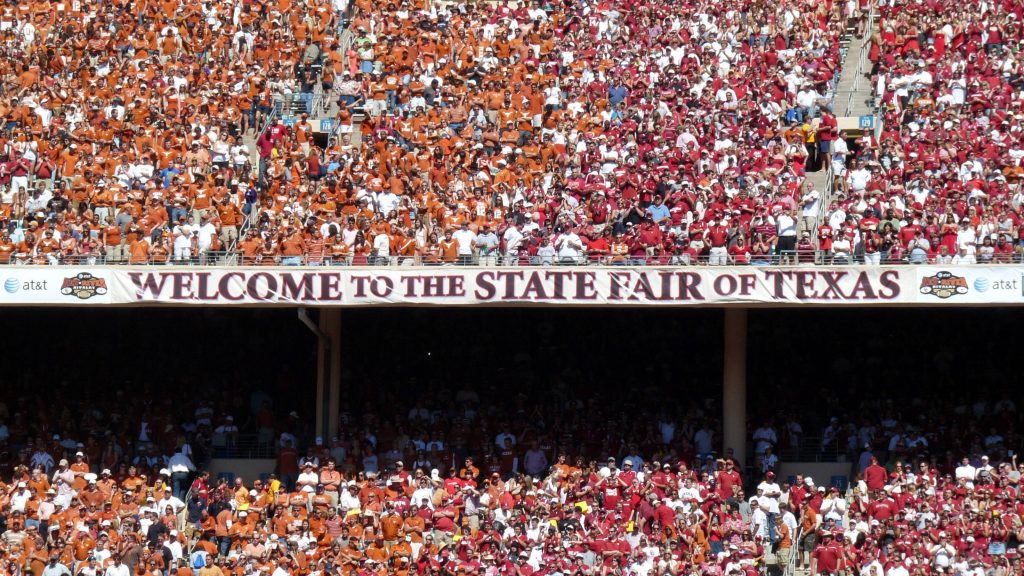 The fan bases of both schools are very loyal and passionate. The crowd will have Burnt Orange and Crimson throughout the stadium. Of course, Austin is closer to Dallas than Norman is, but that doesn't stop the faithful from flooding to the game. As fans will witness, No. 6 Oklahoma and No. 11 Texas will take on each other, in a highly anticipated matchup. This game will feature Jalen Hurts first-ever appearance and start in the Red River Showdown. As Hurts looks to impress in such a historic game, it will be interesting to see what the Sooners game plan is. Due to the way Hurts has played, Texas is the underdog in this one.
The Sporting News reports had a great stat concerning first-time quarterbacks in the Red River Showdown. Since 1990 they're 2-14-1 in this rivalry game, but we are talking about a very experienced player in Jalen Hurts. You better believe he is up, for the challenge. Because he has proved himself with outstanding play so far this season. Hurts has managed to go from undrafted to possible being a Day 1 or Day 2 pick in next years draft. As nothing more than amazing, This guy has played in a conference championship and a National Championship.
Now Let's talk about the Texas Longhorns. This game comes down to if the Longhorn Defense can make Hurts uncomfortable. Players for Texas such as DL Ta'Quon Graham, DE Malcolm Roach, and star wide receiver Devin Duvernay need to be great in this game to have a chance. Duvernay has to be that big threat to help Texas's chances to win.
This all happens this Saturday Oct. 12, 2019 at 12 Noon ET. Location from the Cotton Bowl in Dallas,Texas. You can watch it on Fox. So Hook ' em Horns or Boomer Sooner. So there is your preview and a look at its history.