The Fantasy Breakdown – NFC North Edition
Welcome to the ultimate Fantasy Breakdown! As we head into the pre-season when most fantasy football drafts will be taking place, we will break it down team by team and player by player for every team in the NFL. Let's get started with the NFC by examining the NFC North.
Minnesota Vikings
The Minnesota Vikings suffered a setback in 2018, scratching their way to an 8-7-1 record. The team was laden with heavy expectations following the Minneapolis Miracle, which allowed the team to appear in the NFC Conference Championship against the eventual Super Bowl champions. After they seemingly upgraded their quarterback, paying an absurd amount of money to Kirk Cousins, they disappointed with their play. This year, they will look to bounce back and get back to the playoffs.
Here is a player by player breakdown:
Kirk Cousins – Despite all of the negative criticism, Kirk Cousins was actually pretty good for fantasy football last year. He passed for a hair under 4300 yards while throwing for 30 touchdowns and only 10 interceptions. This is even better than he did in Washington the year prior. Kirk Cousins is not only a valuable fantasy football quarterback because of his ADP, but he's also got some upside. If the Vikings can improve this year, Cousins could easily crack the top ten in scoring for fantasy football quarterbacks.
Dalvin Cook – I'm generally wary of Dalvin Cook's fantasy value due to his injury history. However, if he is able to stay healthy, he's locked in as an RB1. In 14 games started, Cook has just under 1000 yards and 4 touchdowns. If he can stay healthy, expect him to crack 1000 yards pretty easily, and I would expect him to easily get more than 4 touchdowns. If Cook's ADP wasn't so high, I'd be much more willing to take the risk on him, but as it stands, I'm personally avoiding him this year.
Alexander Mattison – I'm incredibly high on Alexander Mattison this year. A virtual unknown to most fantasy football players, Mattison is maybe the most underrated running back in the 2019 rookie class. The Vikings thought enough of him to draft him in the third round, and Mattison has risen during the off-season, receiving rave reviews from the Vikings staff. Considering Dalvin Cook's injury history, Mattison is an absolute must draft and is generally available at the back end of most drafts.
Adam Thielen – I'm hooked on a Thielen! Adam Thielen was Minnesota's best receiver in 2018, posting his best season to date. Thielen finished the season with 113 receptions, 1373 yards and 9 touchdowns, all career highs. The only real concern with Thielen is that his production tapered off towards the end of the season, especially during the fantasy football playoffs. This has helped to repress Thielen's ADP, as he is going somewhere in rounds two or three. This is excellent value for a guy who was matching Michael Thomas game for game, for half the season as the most efficient wide receiver in the league.
Stefon Diggs – I've been very up and down about Diggs' value in fantasy football this year. Although he has never played a full season, he has managed to play through injuries and has only missed 4 games in the last two years. He's viewed as a more explosive receiver than Adam Thielen but this hasn't translated to the stats. It took 102 receptions for Diggs to amass 1021 yards and 9 touchdowns. I'd like Diggs a lot more if he wasn't being drafted at around the same ADP as Adam Thielen, who I think is the more efficient receiver.
Chad Beebe – The son of former NFL star Don Beebe, Chad Beebe is worth keeping an eye on as the potential third receiver in the Vikings passing attack. Last year, Beebe worked his way up from the Vikings practice squad to the active roster, and he's done enough this offseason to likely lock up the third wide receiver spot, as evidenced by the team currently shopping Laquon Treadwell. If Treadwell is off the roster, Beebe receives an immediate boost in value and is worth a flier in the last round of your draft.
Kyle Rudolph – Rudolph the Red Zone Reindeer must have got lost in a blizzard in 2018. Rudolph only scored 4 touchdowns last year. If he can get back to 8 touchdowns as he posted in 2017, he will have some decent value in fantasy football. The fact is, Rudolph is a much better real-life player than a fantasy football player. If he's available as a second tight end that I can draft very late, then I'll take a shot on him, but I'm otherwise disinterested in Rudolph for fantasy football.
Vikings DST – The Vikings success is predicated on their defense being a top ten unit. The defense wasn't completely terrible last year, managing to rank 9th in overall defense in 2018. However, they were expected to finish as a top-five unit, so this was a rather disappointing result, all things considered. The defense will be returning at full strength this year, and if everything comes together, the Vikings could find themselves playing for a berth in the Superbowl come this winter.
Chicago Bears
Daaaaa Bears, da Bears, da Bears!
Following the blockbuster trade for Khalil Mack last year, the Chicago Bears dismantled opposing offenses and relied on creative play-calling from head coach Matt Nagy in order to amass a 12-4 record, making them the division champions. Expectations remain high for this team heading into the 2019 season, but they will be hard pressed to repeat their success now that they've lost star defensive coordinator Vic Fangio. It will be interesting to see how the defense is able to adapt.
Here is a player by player breakdown:
Mitchell Trubisky – It seems like Mitchell Trubisky's ADP is being solely driven by Chicago Bears fans, as he's going above many veteran quarterbacks that I feel will wildly outproduce him. Trubisky only scored 24 touchdowns last year, and 6 of them were in a single game. He only threw for 3223 yards, so there's room for improvement, but I don't see Trubisky ascending to a top ten fantasy football quarterback this year.
David Montgomery – The newest addition to the Bears offense has impressed early in training camp and in pre-season action. Montgomery has an opportunity to take over as the starting running back, as the team views Tarik Cohen as a specialty player. Montgomery is perhaps the best running back target in fantasy football drafts. He is going several rounds later than fellow rookie Josh Jacobs, and I think he will produce much better than Jacobs will. Montgomery is being appropriately valued, and I have no qualms drafting him on my fantasy football team in any format.
Tarik Cohen – Tarik Cohen is quickly becoming an exclusive PPR back, especially given that coach Matt Nagy said: "we gave Tarik Cohen a little bit too much at times last season". His reasoning is that volume wears on explosive players like Cohen, reducing their effectiveness at cracking off big plays later in the season. Volume is king in fantasy football, and this puts a serious kink into the value of Tarik Cohen as a fantasy option. I'd still be fine with him in PPR leagues, but with his current ADP, I will be avoiding him in standard fantasy football leagues.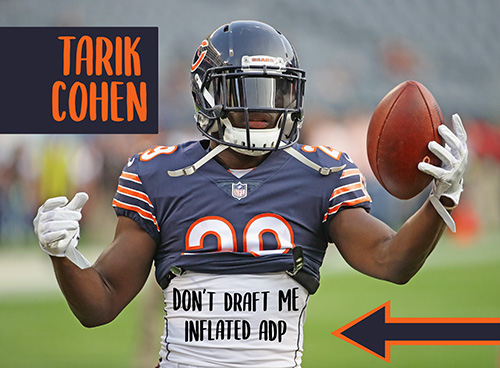 Allen Robinson – Robinson's magical 2015 season seems like a distant memory. In the years since he posted an incredible 1400 yards and 14 touchdowns on all of 80 receptions, Allen Robinson has produced a meager 1654 yards and 10 touchdowns on 129 receptions… in 3 years. Injuries certainly have played a factor, but it seems like Allen Robinson might be on his way back to 2015 form. In the playoffs, he had an excellent game, producing 10 receptions for 143 yards and 1 touchdown. If he can continue to build rapport with Mitchell Trubisky, and stay healthy, then he's a solid value at his current ADP.
Anthony Miller – The promising sophomore wide receiver will look to secure himself as the true second target in the Bears offense. Even if he can secure his position on the depth chart, I've wavered on Miller's value. The Bears are trying to work he and teammate Trey Burton back from injury, which has somewhat hampered his ability to actively participate in the off-season. Furthermore, wide receivers are intrinsically dependant on the quarterback throwing them the ball, and Trubisky will have to make a real leap in production for Anthony Miller to have any real week to week value in fantasy football.
Taylor Gabriel – I have a soft spot for Taylor "Peter" Gabriel. A while back, I played in one of my favorite leagues ever, the Danger Zone league (a fan league organized by the guys from NFL Fantasy Live). After going 2-5 to open the season, I was able to make a huge comeback, finishing the season 7-6 and sneaking into the playoffs, where I ultimately lost in the semi-finals by 1 point (thanks to Blair Walsh). Taylor Gabriel was the wide receiver pickup that may have saved my season, at that time playing for the Atlanta Falcons. He doesn't have a ton of value outside of some flex appeal, but if you feel like I feel, he will always be a darling In Your Eyes.

Trey Burton – Trey Boo Boo was one of my favorite tight ends to draft last year, and not much has changed heading into 2019. Generally, most tight ends start to truly find themselves entering year 3, and Burton's yards and reception production doubled once he took over as the starter in Chicago. If he can overcome the injuries he's suffered during the off-season, he will be an excellent value to target in the later rounds of your fantasy football draft.
Chicago DST – Do not draft the Chicago Bears defense. The Bears were the number one defense in fantasy football last year, and the actual unit hasn't changed much. The reason I do not and will not recommend drafting them is two-fold: they are being drafted high in most drafts, and as much as the players haven't changed, the coaching has. If the Bears aren't far and away the best defense in all of fantasy football, then they aren't worth a fifth to eighth-round pick, as there are still so many good players available in those rounds.
Detroit Lions
The Detroit Lions might be the most boring offense in the league. Even though Matthew Stafford and the starting receivers haven't played this pre-season, the offense has looked like an amorphous blob of mediocrity. The defense looks weaker than it was last year, as they were eviscerated in preseason action by the Patriots last week. I understand, "it's just the preseason", but there's really nothing that's happened this offseason that makes me excited about the Detroit Lions heading into the 2019 season.
Here is a player by player breakdown:
Matt Stafford – Stafford has not yet played a down in the preseason thus far, so it's hard to gauge where he's at heading into the 2019 season. Last year was incredibly disappointing for Stafford, hitting a career-low in yardage in any season where he's played the full year. He also only had 21 touchdowns, his lowest since 2012. Matt Patricia has effectively handcuffed Stafford to a stagnant, boring offense that is focused on playing run first football. The only upside to Stafford's value in fantasy football is that he was so bad last year, that if he can just top 4000 yards and 25 touchdowns, it will be a big uptick from 2018, making him a solid value as a quarterback to grab if you waited in your draft.

Kerryon Johnson – Keep calm and Kerryon! Perhaps the most exciting player in the Lions offense, Kerryon Johnson could represent a tremendous value as a 2nd or 3rd round running back who could finish in the top 10 of fantasy football running backs. The exodus of Theo Riddick has opened up some receiving targets out of the backfield, so if Kerryon can absorb even half of those targets, that would give him an extra boost in PPR leagues. I'm all aboard Kerryon's hype train heading into the 2019 season.
CJ Anderson – The human bowling ball turned journeyman is coming off a trip to the SuperBowl with the Los Angeles Rams. Formerly a 1000 yard rusher for the Denver Broncos, Anderson represents a change of pace running back for the Detroit Lions. In terms of fantasy football, I have no interest in CJ Anderson outside of a handcuff to Kerryon Johnson. It took him 245 carries to gain 1007 yards in 2017 with Denver, and I don't see him coming anywhere close to that volume.
Marvin Jones – Marvin Jones is an incredible value heading into the 2019 fantasy football season. He is going pretty late in most drafts, and despite still being viewed as the Lions starting wide receiver, he's being drafted several rounds later than his teammate Kenny Golladay. This makes no sense to me, as Jones had 1100 yards and 9 touchdowns in 2017. Last year, not only was the offense mediocre at best, Jones was injured. If he's healthy, I believe he can easily repeat his 2017 production if the Lions can manage to be slightly above average.
Kenny Golladay – Juxtaposed against his teammate Marvin Jones, I feel that Kenny Golladay is being generally overdrafted. Don't get me wrong, I like Golladay's physical skills and potential, but I worry about the Lions' offense as a whole. If Golladay only has 1000 yards and 5 touchdowns again this year, that would be fine, if he were being drafted where Marvin Jones is being drafted. In reality, Golladay is being drafted in rounds 4 to 6 in most fantasy football drafts, and there are other players in better offenses that I'd rather take a shot on.
Danny Amendola  – Danny "Playoff" Amendola could represent a surprising value this year, especially in PPR leagues. Even in Miami, he managed 59 receptions as the Dolphins leading receiver. These numbers aren't spectacular, but with how late Amendola is being drafted, I'm ok with taking a chance on him late exclusively in PPR leagues as a matchup based flex option.
TJ Hockenson – I do like TJ Hockenson as a player, but I'm not that excited about him from a fantasy football perspective. The Lions rookie tight end will have heavy expectations considering his high draft capital, but history has shown that rookie tight ends struggle to transition to the NFL game because not only do they need to learn the nuances of route-running, but also how to get set in blocking schemes. In fact, the only rookie tight end to ever pass 1000 yards in NFL history was Mike Ditka in 1961. For this reason, I'll probably look elsewhere at tight end this year, but Hockenson is on my radar going forward over the next few years.
Lions DST – Again, I understand that it's only the preseason, but the Lions defense has looked horrendous so far, dropping 31 points to the Patriots in week 2 of the preseason. What's glaring about this to me is the fact that Matt Patricia is from the Bill Belichick coaching tree, and he was absolutely crushed by his mentor in this game. Last year, the Lions were average on defense, ranking 17th overall. This year, I could see them falling even further than that this year, and I expect this team to finish at the bottom of the division.


Green Bay Packers
Following a disappointing year, the Green Bay Packers will look to overtake the division once again with new head coach Matt Lafleur now working with Aaron Rodgers. The Packers will look to improve a young defense at the same time as regaining their prowess on offense, and if all goes well, I'd expect this team to win the division.

Here is a player by player breakdown:
Aaron Rodgers – Tom Brady is the GOAT, but Aaron Rodgers is the best quarterback in the NFL from a talent perspective. After returning from injury last year, Rodgers had, by his standards, an average season. That means he threw only 25 touchdowns, but also only had 2 interceptions. Now that his young receiving corps has had another year to grow up and get acclimated to the superstar quarterback, and now that he has a young, offensive-minded head coach willing to open the playbook, Rodgers should be locked in as a top-five fantasy football quarterback barring injury.
Aaron Jones – Unable to capitalize on the starting role in an Aaron Rodgers led offense in 2018 due to injury, Aaron Jones will look to rebound and become a true RB1 in fantasy football. If he can just stay healthy, despite being a pretty average running back, in my opinion, Jones could easily surpass 1000 yards rushing. He had 728 yards on 133 carries last year, so if he can get between 200-250 touches this year, he could emerge as a top ten running back in fantasy football.

Dexter Williams – There is a new Williams in the running back room in Green Bay, and he might already be the best running back on the team. Williams displayed excellent vision while running for Notre Dame in college, gaining just a hair under 1000 yards and scoring 12 touchdowns in his 2018 season with the Fighting Irish. Currently, Williams is a virtual unknown, having been selected in the sixth round. He is also currently fourth on the depth chart, behind Jamaal Williams and Tra Carson. However, if Williams can usurp the other Williams and Carson on the depth chart, he could be a player to watch and a handcuff to Aaron Jones. If you're in a deeper league and all the exciting rookie running backs have been drafted, take a shot on Williams in the last round of your draft.
Davante Adams – We don't need to delve too deeply into Davante Adams, he is the clear cut starter, the best skill position player on the team and he's Aaron Rodgers favorite target. Adams is being appropriately valued as a top-five wide receiver, along with Julio Jones, Deandre Hopkins and Michael Thomas as surefire, locked in, WR1's with the ability to be the top producing wide receiver in all of fantasy football. At this point, I'd be looking hard at Adams as my first pick once Kamara, CMC, and Saquon are off the board.
Marquez Valdes-Scantling – MVS is quickly rising on all of my draft boards and might be the best value WR in fantasy football this year. He is still being drafted too late in my opinion, and I'd much rather have MVS over guys like Alshon Jefferey, Kenny Golladay, Allen Robinson and the like. First of all, MVS is 6"4 and runs a 4.37 40 yard dash. That's insane. Add to that the fact that MVS has been training with Randy Moss during the offseason, and is receiving favorable comparisons to Terrell Owens from a physical standpoint, I'm very excited about MVS' prospective output heading into the 2019 season.
Geronimo Allison – Even though it seems that MVS is entrenched as the number two receiver for the Packers, I still like the value of Geronimo Allison late in drafts. He's entering his fourth season with the Packers, and I feel this is a make or break year for him in this new offense. When Aaron Rodgers is on, he can absolutely support three fantasy football relevant wide receivers on a week to week basis. If I miss out on MVS, I'll be circling back to look for Allison a few rounds later.
Jimmy Graham – Remember when Jimmy Graham wanted to be paid like a wide receiver? Pepperidge Farm remembers. Jimmy Graham, once arguably the best receiving tight end in football, has never quite been the same since his torn patellar which required season-ending surgery back in 2015. He's still technically a red zone target, having amassed 10 touchdowns in 2017 when he was still with the Seahawks. For whatever reason, Graham hasn't been used this way in Green Bay, but this year is different. Graham is going so late, that I'd be willing to take a shot on him just in case he starts getting red zone looks again in this new offense.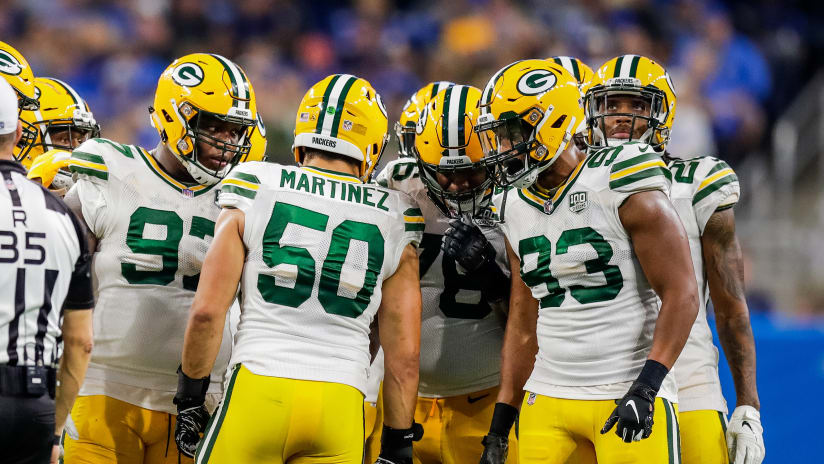 Packers DST – If there's one thing that could derail the Packers' season, it's their defense. Ranked 22nd last year under defensive coordinator "Teflon" Dom Capers, the Packers have finally come to their senses and released Capers following the 2018 season. The Packers do have a lot of young, unheralded talent on the roster, so if new defensive coordinator Mike Pettine can get this unit to be average, the Packers have a legitimate shot at contending for a SuperBowl, assuming Aaron Rodgers stays healthy and the defense is average to above average.

NEXT TIME: The NFC South