Jameis Winston vs Marcus Mariota
Let's take a look back at the 2015 NFL Draft. More importantly, the number one and two overall selections. We are almost halfway into their fifth season as pros. Winston threw five interceptions on Sunday while Mariota was benched for Ryan Tannehill. Let's take a deeper look at this matchup of Jameis Winston vs Marcus Mariota.
Jameis Winston
The Tampa Bay Buccaneers drafted Winston out of Florida State first overall and rightfully so. Winston in his time at Florida State did just about everything imaginable for a Quarterback to do. Winning the Heisman Trophy, Consensus 1st Team All American, ACC Rookie of the Year, ACC Player of the Year, Walter Camp Award, Manning Award, and a BCS National Championship. His accolades from college speak for themselves which is what made the Buccaneers select Winston first overall.
Turnovers
The biggest knock on Winston coming out of college was that he was a turnover machine. In his first season at Florida State, he threw 40 TDs (which is amazing) to 10 Ints (which isn't terrible I guess). In his second year as the starter he would go onto throw, 25 TDs (which is decent) to 18 Ints (the most by any QB that season) so overall for a career in just two seasons starting at Florida State Winston threw 28 Ints.
Character Concerns
In 2012 Jameis was accused of sexual assault by a fellow student at FSU. This would drag on for the next two years. The two sides settled out in court, which neither confirms nor denies that this took place. This was a major PR hit for the FSU football program and Winston.
In 2013 it was reported that Winston had stolen soda from a restaurant close to campus, and then in 2014 Winston was cited for allegedly stealing crab legs. Even with the turnovers and the character concerns the Buccaneers still chose to make Jameis the first overall pick. They felt that Lovie Smith could mentor Jameis and teach him how to be a leader. They thought he could change the public perception of Jameis, and it makes sense when the ceiling is much higher than the floor it is worth it to risk it.
Let's take a look at how everything played out.
In five years in the NFL Jameis has only posted one winning season, 2015 (9-7). In his career so far he has thrown 99 TDs to 63 Ints. He's fumbled the ball over 40 times and lost 26 of those fumbles bringing him to 89 total turnovers in the last five seasons (most of any player).
However, not everything can be on Jameis. His rookie year saw him post a 9-7 record as the starter and a bid to the Pro Bowl. Then for some ungodly reason, Lovie Smith got axed for Jameis's offensive coordinator Dirk Koetter, who mind you had no head coaching experience. This was a failed experiment as Jameis would throw 28 touchdowns to 18 picks. Jameis would progressively get worse under Koetter.
NFL Suspension more Character Concerns
In 2017 the NFL investigated Jameis after allegations were made that Winston had groped a female Uber driver while in Arizona, after some backing from teammates that included Eagles cornerback Ronald Darby the NFL concluded that Winston did indeed violate the leagues code of conduct and was announced he would suspended the first 3 games of the 2018 season which saw Ryan Fitzpatrick start in his place.
Post Suspension
After returning to the team in 2018 Winston had to serve as Fitzpatrick's backup eventually taking the reins back over to only be benched to be thrown back into the fire again, everything went wrong for the Buccaneers in 2018; which brought about major organizational changes in the 2019 offseason Head Coach Dirk Koetter was fired and he did not endorse Jameis well on his way out of the door.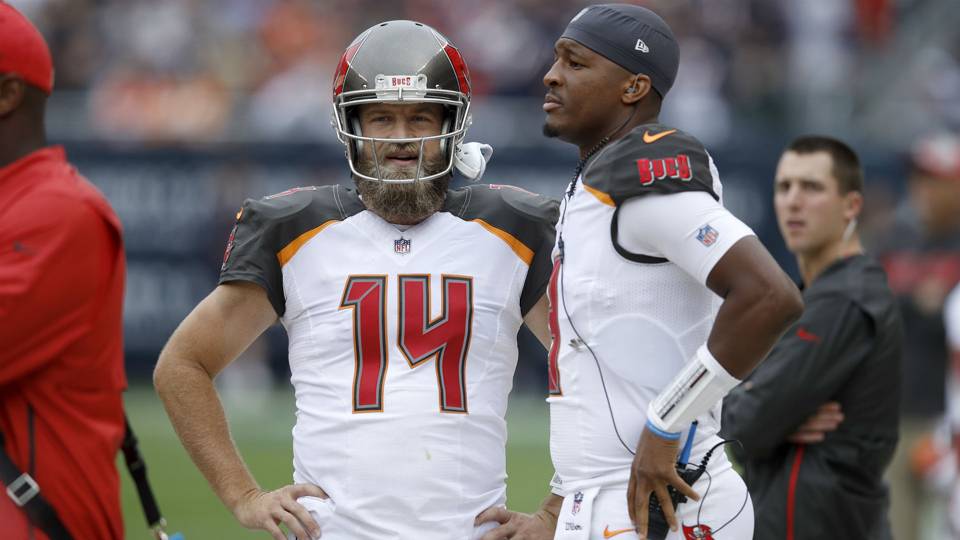 Head Coach Bruce Arians was brought back into the fold and he was attracted to the Buccaneers job and that job only due to the presence of Winston and seeing his resume you can't blame BA for wanting to work with a young guy with all the tools to be special and Winston still hasn't progressed; going across the pond and throwing 5 Ints (career high) 2 fumbles (1 lost), one can only imagine that is something that not even BA can fix and with the Falcons having their issues on offense and the Saints and Panthers both having QB issues the Bucs were primed to win this division for the first time since Jon Gruden did it but Winston is this teams Achilles heel and after 5 years it is time for the Buccaneers to cut their losses and move on from the First Overall pick he is not a good example for the younger fans and he isn't getting any better on the football field.
Now we will get to his counterpart the man taken 2nd overall in the 2015 NFL Draft and I'm going to try to remain bias and hold back my tears here.
Marcus Mariota
The Tennessee Titans selected Mariota 2nd Overall and like his counterpart he was very decorated in his time in college. Mariota attended Oregon and played under Head Coach Chip Kelly in the most dynamic offense college football has ever seen. In his time at Oregon Mariota would go onto win the Johnny Unitas Golden Arm Award, Davey O'Brien Award, Walter Camp Award, Associated Press Player of the Year, Unanimous All-American, Heisman Trophy and Also a BCS National Championship. So let's see where things went wrong.
Rookie Season
In his rookie season, Marcus started the year with Ken Whisenhunt serving as the Head Coach and also his Offensive Play callers and Marcus started off hot under Whisenhunt the Titans were averaging 28.7 points per game. But after taking a vicious hit from a Colts defender ownership lost faith in Whisenhunt's scheme and factor that into a 1-6 start the decision was made to fire Whisenhunt and can't disagree with Amy Adams reasoning "we haven't won enough, and this system has been a good one for Phillip Rivers but it's not a good one for Marcus Mariota" so the decision was to protect the young QB early in his career from taking the brutal hits. Whisenhunt was replaced by former Bills and Jaguars Head Coach Mike Mularkey and Playcalling duties were given to Jason Michael (Mariota's 2nd OC) and after a week 12 loss to the Patriots and an MCL sprain the decision was made to sit Mariota the rest of the year.
Mike Mularkey
When Mularkley was given the full time gig, he made it his mission to protect and ease the QB into life as an NFL starter and that he did, after an exodus of players from the Whisenhunt Era, Mularkley hired Terry "Biscuits" Robiske to be offensive coordinator (3rd OC) brought in former Cowboys Running back Demarco Murray and then drafted Derrick Henry in the 2nd round to take the load off the young QBs shoulders and that it did. Murray would finish his first year in Tennessee back on the All Pro list and Henry finished his rookie year with over 700 yards from scrimmage. Mariota would finish his second season with 3,400 yards 26 TDs and 9 Ints placing second in the division with a 9-7 record which was tied with the Texans overall record who won the division that year. Mariota would earn his firs Pro Bowl honors this year. The second year in the Mularkley era saw some key injuries and lack of depth really halt the team after a 8-4 start the Titans would go on a 3 game skid and fought for their lives week 17 to make the Wild Card but they did, the Titans edge past the Jaguars in a defensive battle that saw the titans win the game 15-9. Finishing with a 9-7 record for the second year in a row and their first playoff berth in 10 seasons. Mariota did show signs of regression in biscuits system the second year as it seemed Exotic smash mouth was no longer working without Bell Cow Tailback Demarco Murray so Mariota would go on to finish the season with 13 TDs 15 Ints (career high).
The Wild Card matchup with Kansas City one of the greatest games in NFL history in my opinion. The Titans struggled mightily in the first half trailing the Chiefs 21-3 at halftime and it looked as if the game was out of reach after Adoree Jackson muffed a punt to open the 3rd Qtr first possession for the Titans, the defense would hold strong and the Chiefs field goal attempt would go wide right, and then we would witness Mariota Magic over the next 2 Qtrs the Titans dominated the Chiefs aided by Derrick Henry and strong play from the Offensive Line the Titans rallied to win on the road in Arrowhead in Wild Card round. Mariota would finish that game with 254 yards 2 TDs and 37 yards on the ground and expectations went sky high afterward so what happens next. Mike Mularkey get fired Yes the Titans fired a Coach that posted 2 back to back winning seasons, off the organizations first playoff appearance in 10 years and first playoff win since 2002, really you can't make this stuff up. General Manager Jon Robinson wanted to go a different way on Offense and Mularkey refused to fire someone he didn't think should be fired (talk about Loyalty to your staff).
Mike Vrabel gets Hired
As the saying goes it pays to have friends in the right places. Jon Robinson replaced Mularkley with one of his old running mates from New England hiring away Texans DC at the time Mike Vrabel (so you want to change things on your offense so you hire a defensive coach…………….okay). Vrabel was quoted to be a leader of men and the man who could get the Titans over the hump.To fix the Offense the Titans brought in Rams QB coach and de facto Offensive Coordinator Matt Lefleur to work with Marcus Mariota (4th OC) to mixed results, plagued by and offensive line that would go onto surrender a league high 66 sacks and 11 sacks in one game and a supporting cast that wasn't so supportive on offense Mariota would finish the season with 2,500 yards 11 TDs to 8 Ints and the Titans would go…………. You guessed it 9-7 for the third year in a row.
Matt Lefluer leaves
After serving one year on the job in Nashville, Matt Lefleur was hired as the Head Coach of the Green Bay Packers.2018 OffseasonWith the departure of Matt Lefleur the Titans would promote Tight Ends Coach Arthur Smith to be the Offensive Coordinator (5th OC) with no experience calling plays at any level……………… so there's that. The Titans failed to address the offensive line issues that plagued the team a season ago and watch QB Marcus Mariota take 26 Sacks (League High) in the first 6 weeks of the season, so a young QB with so much potential taking hits like that can have adverse effects on your career and life just ask Andrew Luck. After 5 years in the Music City for the First time in his career Marcus Mariota was benched in favor of Ryan Tannehill in the Week 6 matchup against Denver which the Titans would go onto lose 16-0 and it looks as if the move to Tannehill will be a permanent switch with the official announcement expected today, and when it is the Mariota Era is Nashville will be officially over (please excuse me while I go cry I just got out of my 4 and half year relationship my relationship was with Mariota's potential to be the next great Titans QB). Mariota will wrap up his titans' career going 29-32 as a starter.
Debrief
If you are still reading thank you for making it all the way to the end. I think both players have done a lot for each of their respected Franchises but when you take a player and throw them into non–structured organizations that makes dumb decisions whether it's coaching, free agency, drafting, off the field; football is the ultimate team sport and there has to be trust so as much as we could say the organization lost trust for their top picks perhaps it's really the players who have checked out mentally on organization that failed to stick with what worked or what made them special players.
Tell us what you think.