Monday Night Raw would start with WWE continuing the NXT Invasion storyline as three blacked-out SUVs, one of which carrying Triple H, pulled into the arena. Triple H would walk over to another SUV and mutter something through a cracked window.
After the intro, Brock Lesnar, with Paul Heyman in tow, would make his way down to the ring, and like an offended white woman, ruin a lot of people's night. Heyman, in a nutshell, would cut a classic heel promo, telling everyone in the audience and backstage that Brock Lesnar was better than all of them. Once he finished, Lesnar was let off his leash and began attacking random backstage employees. All of this because Lesnar wanted Rey Mysterio for his actions in Saudi Arabia.
Charlotte Flair and Natalya would team up to go against the Kabuki Warriors because—well, blondes. The four women would have a decent match that spanned two commercial breaks with Natalya, fresh off her history-making match in Saudi Arabia, picking up the win with the Sharpshooter on Asuka.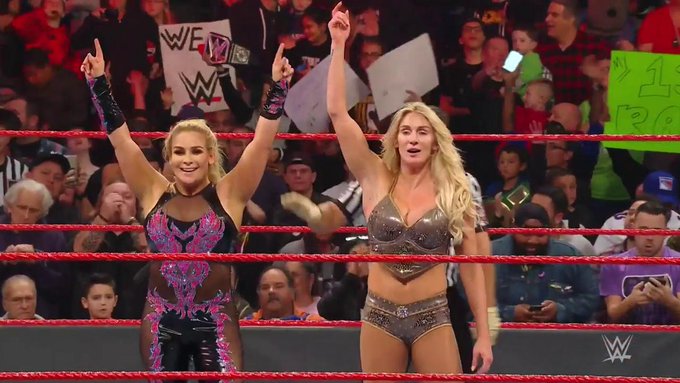 Outside of a couple of hot tags, there was nothing happening in this match to get me invested in either team and after two commercial breaks, I just wanted the match to wrap up. Grade: C
As soon as the match finished, Heyman and Lesnar would come out and harass the announce team, looking for Mysterio. Heyman, who would ask once, drop the classic line "I will not ask again," would ask where Mysterio was four more times before threatening to have Lesnar attack Jerry Lawler. Dio Madden would get in between Lawler and Lesnar but get F5'd through the announce for being a hero. This would prompt Rey Mysterio to come out with a pipe(?) and start wailing away on Lesnar, grabbing the WWE Title and bash him across the head with it.
This was awesome!
After the commercial break, Rey would cut a backstage promo, challenging Lesnar for the WWE Title at Survivor Series.
Cedric Alexander and Buddy Murphy would both have a no-entrance match, and while that would usually be an issue given any other situation, it wasn't in this case as both men, once again, put on one hell of a match. In the end, Buddy Murphy would come out victorious with Murphy's Law after driving a knee into Alexander's back mid-air. Grade: B
An unsure Seth Rollins would come down to the ring and give this speech about all his hard work being for nothing, prompting Triple H to come down with the Undisputed Era to offer him a choice: join or be destroyed. The O.C would come down to chase the Undisputed Era off only to be attacked by Damien Priest and Dominik Dyjakovic and then gang upped on. The Raw roster would then chase them off and the bit would end with Seth walking away, confused.
After the commercial break, Seth would demand a match against Adam Cole for the NXT Title from Triple H. Naturally, Triple H accepted the challenge.
In a match that I called last week in my review (see for yourself), Andrade and Zelina Vega faced off against Sin Cara and Catalina in a surprisingly clunky, botched match. Given the talent and chemistry between Andrade and Sin Cara, I expected more from them. Instead, we get not one, but two top rope botches from Sin Cara and Andrade and then with Catalina who undershot her target by nearly a mile, crashing into Zelina's knees rather than her body. In the end, Zelina picked up the win with the Basement Hurricanerana on Catalina. Grade: D+
WWE would go back to kicking that dead cuckold dog with Rusev, Lana, and Bobby Lashley, recapping everything that's happened since day one. Rusev would come down to the ring and cut a promo, letting Lashley know that Lana was all his, but in a terrible way of phrasing given the storyline, Rusev would let Lashey know that his ass was Rusev's.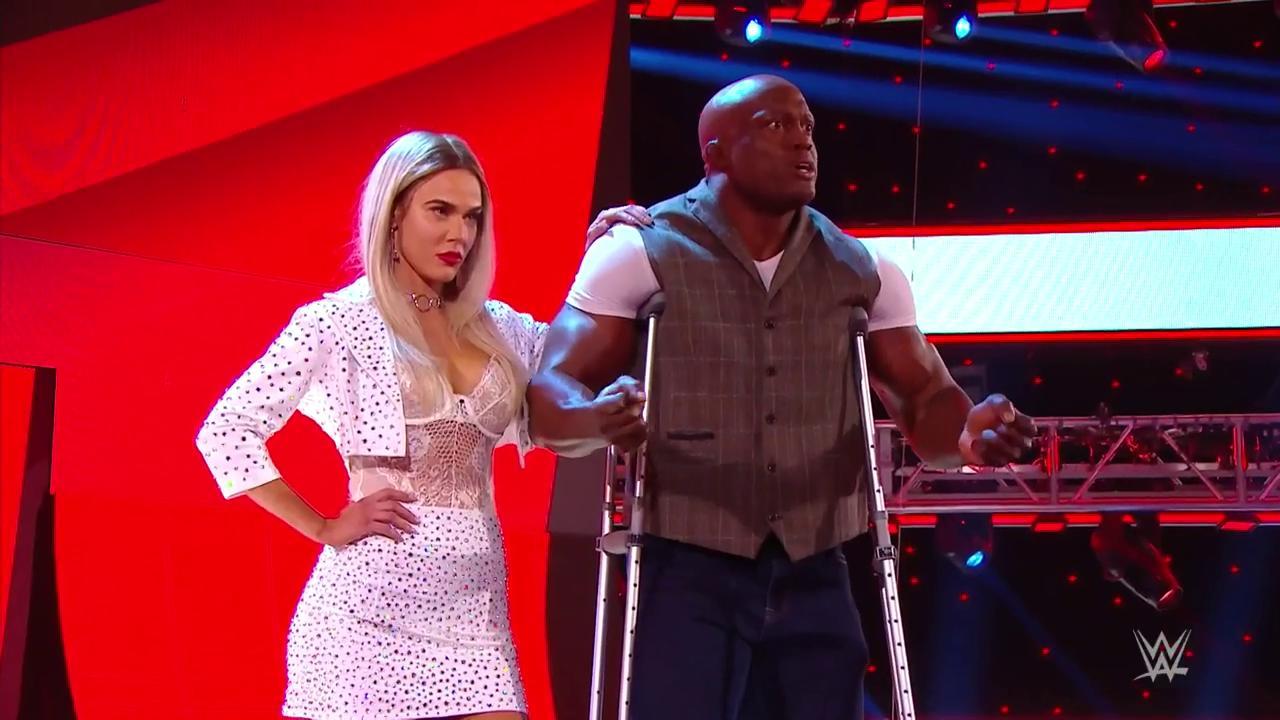 On crutches, Lashley would come out with Lana, and explain that he wasn't medically clear to wrestle because of a torn groin. An injury he received from pleasuring Lana. Instead, Rusev would face off against Drew McIntyre in a match with a predictable ended as Lashley ran down to attack Rusev from.
Rusev would make a comeback, but from out of nowhere, Randy Orton would deliver the RKO. The two would begin their assault before Ricochet would come flying down to the ring for the save.
Charly Caruso would briefly interview Becky Lynch before NXT's Shayna Baszler would sit down and the two would have a brief heart-to-heart about their match with Bayley at Survivor Series. It was tense, it was fantastic.
The O.C would come down to the ring and cut a pre-match promo about the NXT invasion, prompting their opponents, the Street Profits and Humberto Carrillo, to cut one of their own.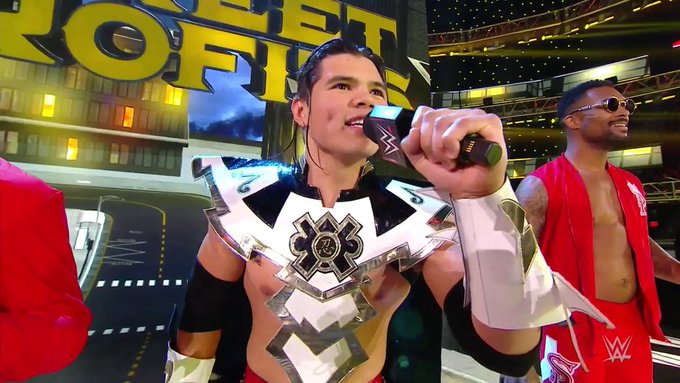 This was a great match. I've always been a fan of young blood vs. veteran matches because you always end up having two different styles of wrestling happening at once. The ring awareness and overall experience of the veteran always seem to mesh well with the speed and agility of the young blood. AJ Styles would pick up the win after missing the Phenomenal Forearm, but catching Humberto Carrillo in a powerbomb, and using the ropes to get a leverage pin. Grade: B+
The Viking Raiders would have another squash match against the East Hampton Polo Boys, and all I can say is it's gotten worse. It's one thing to squash tag teams, it's another to squash gimmick tag teams, like last week's Chicago Cubs. Grade: F
In the main event, Seth Rollins would face-off against Adam Cole for the NXT Title. Once again, like Daniel Bryan vs. Adam Cole, it's hard for me to get emotionally invested in a match when I already know how it's going to end.
The two would have a fantastic match, but when Seth was getting ready for the Curb Stomp, he'd get attacked by the other members of the Undisputed Era. This would prompt the Raw locker room to come running out as well as other members of NXT for an all-out brawl that would keep going even after the show ended. Grade: B-
To be perfectly honest, I was expecting a terrible show, especially after Vince McMahon left everyone hanging in Saudi Arabia to deal with that whole plane fiasco, but to my surprise, the show wasn't a complete waste. I enjoyed the Rollins/Cole match more than I did Bryan/Cole, and the face-off with Bazsler and Lynch was perfect.
This is how you do an invasion story. I give this week's episode of Monday Night Raw a surprising…